EntSun News/10961365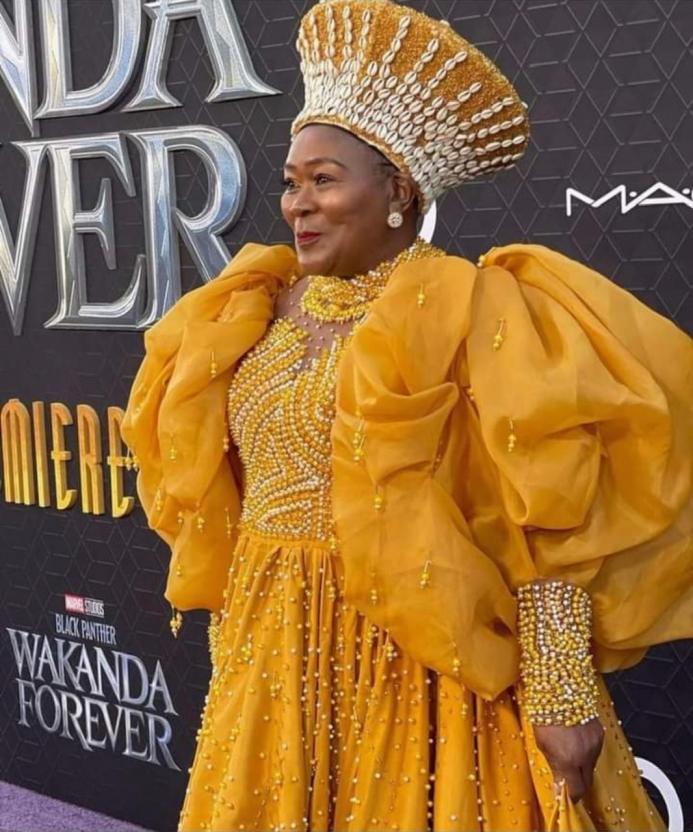 South African Actor, Connie Chiume & NOLA's Royal Family of Music Member Damon Batiste Speak With W.E. Community Spotlight Host, Jackie Wright, publicist for the San Francisco Black Film Festival, the Oakland International Film Festival and creator of the National Coalition of 100 Black Women SF Workforce Development City of San Francisco OWED Dream Keeper Initiative Program.
SAN FRANCISCO
-
EntSun
-- Posted Courtesy of Wright Enterprises San Francisco~Dallas Community Spotlight~~~
Just days after a phenomenal appearance this week at the Los Angeles Dolby Theater premiere of Marvel's Black Panther Franchise "Wakanda Forever", Veteran Actor, Connie Chiume who has graced, television, stage, screen and the Internet joined with longtime colleague and cultural ambassador Damon Batiste of the famed NOLA Royal Family of Music to speak with the host of Wright Enterprises Community Spotlight San Francisco~Dallas, Jackie Wright.
From feeling the presence of Chadwick Boseman on the set, to her journey in acquiring her role as "Mining Elder," to working with musician, humanitarian, producer and founder of NOSACONN- New Orleans South Africa Connection, Damon Batiste over the years, Connie Chiume paints a picture of a caring artist with a heart to cultivate fellow artists and those that will follow in her footsteps from South Africa, the U.S. and the world. In the interview Chiume crowned by Wright as "the Grand Dame of the greatest dignity" and Batiste emphasized the importance of cultural exchange and economic empowerment.
More on EntSun News
Click Here for Interview:
https://tinyurl.com/mw62j8zy
Giving an example of how the arts can produce various levels of creativity, Connie's rapturous description of the Red Carpet shattering design of her gown and headdress by South African designer S C A L O® is a highlight of the interview. Adding to the importance of New Orleans' influence as "the most African City in America," Batiste affirmed the work of Hannah Beachler hailing from New Orleans. Pointing out the influence of NOLA's Black Indian Masking that is promoted and sustained by artists such as National Endowments of the Arts Heritage Fellow, Chief Shaka Zulu, Batiste heralded New Orleans Mayor LaToya Cantrell and the Mayor's Office of Cultural Economy. Beachler's red carpet dress at the premiere of "Wakanda Forever" paid homage to Black Indian Masking tradition.
Batiste stressed the importance of cultural exchange that marks his work with Dame Chiume and other Africans since his founding of NOSACONN Inc. in 1998 with over 80 trips to the Motherland. He cited the occasion of his first cousin Jon Batiste, before his Late Night Show with Stephen Colbert fame, winner of an Oscar and five Grammy Awards, traveling with him and fellow New Orleans native Wynton Marsalis, winner of nine Grammy Awards on a tour the NOSACONN CEO arranged to Johannesburg's Joy of Jazz Festival that will be celebrating it's 23rd edition November 25-26, 2022.
More on EntSun News
Not noted in the interview, but related to the conversation's theme of economic empowerment and the arts, is the upcoming event "The Black Oakland: Oakanda Forever Tour" by Ethnic Ties in Association with the Oakland International Film Festival and the San Francisco Film Festival, November 11-13, 2022. As the home of the original Black Panther Party, the public is welcome to join this special rendition of the Black Oakland Tour. The hybrid mobile-walking tour will include aspects of Ethnic Ties' traditional tour, which will tour historical and culturally significant locations central to the party's development before ending at the iconic Grand Lake Theatre. See more details at
https://www.eventbrite.com/e/black-oakland-tour-oakanda-forever-tickets-437594375557?aff=ebdssbdestsearch
.
For more community news visit www.wrightnow.biz.
-30-
Special Thanks to Lance Burton of planetfillmore.tv/ for technical assist.
Related Media:
Tribute to Kali O'Ray & Chadwick Boseman - "The Power of the Heroic Figure" - Live Talk @ SFBFF :
https://youtu.be/zcPnWu45qj4
Source: Wright Enterprises www.wrightnow.biz
---
0 Comments