EntSun News/10998555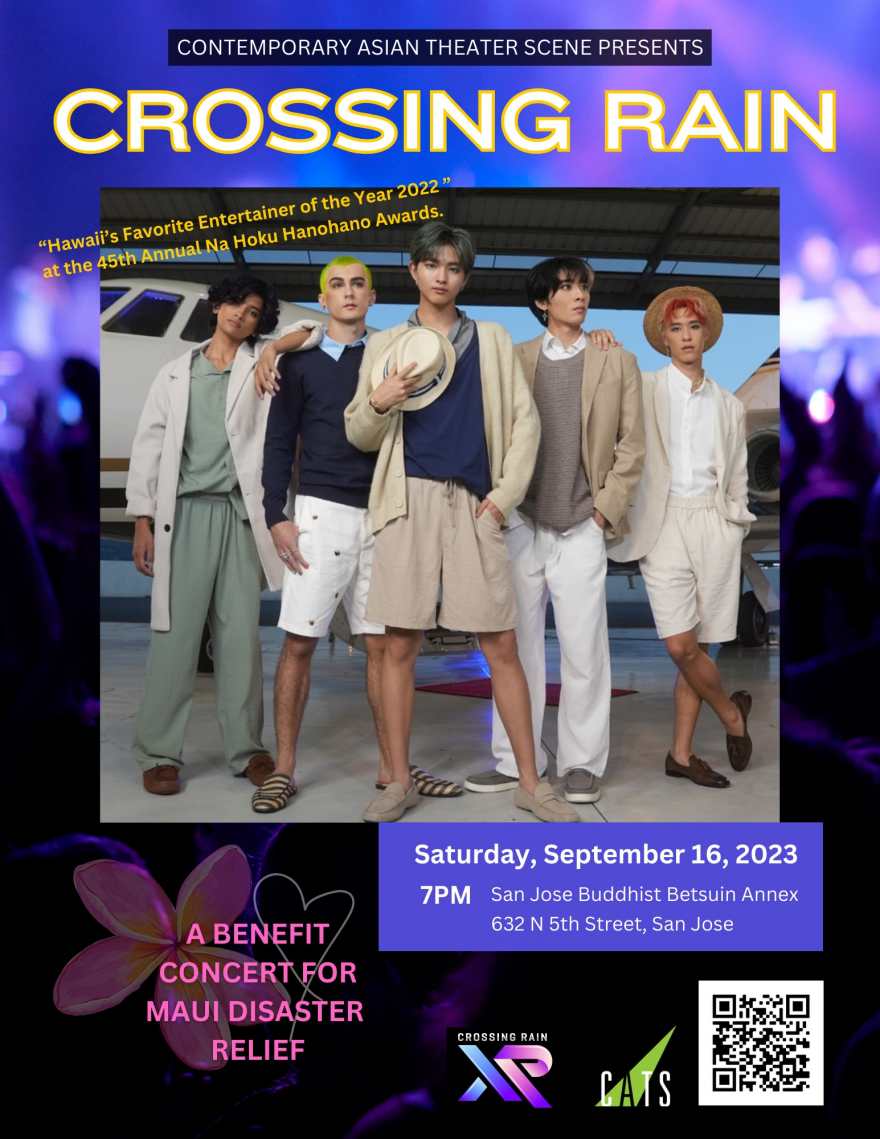 Benefit Concert for Maui Disaster Relief Set to Inspire, Entertain, and Provide Hope
SAN JOSE, Calif.
-
EntSun
-- Contemporary Asian Theater (CATS) is thrilled to announce its first Asian American Pacific Islander (AAPI) Artist Showcase, a benefit concert in support of Maui disaster relief, featuring the up-and-coming, award-winning boy band, Crossing Rain, and emerging AAPI talents including Bay Area rapper, singer, and songwriter Son of Paper.
Headline Act: Crossing Rain
Crossing Rain is a Hawaii-based pop group that won Hawaii's Favorite Entertainer of the Year Award at the 45th Annual Nā Hōkū Hanohano Awards in 2022. Their motto, "Providing Hope, Inspiration, and Aloha through our Music," encapsulates the spirit of their performance, promising an enchanting evening filled with unforgettable melodies and uplifting energy.
Supporting the Maui Strong Fund
Beyond delivering an electrifying showcase of AAPI talent, it supports an important cause. A percentage of ticket sales and all donations will go to the Maui Strong Fund, aiding victims of the devastating Maui Fire Disaster.
Event Details:Ticket Information:CATS Creative Writing Workshop with Son of Paper
Prior to the showcase, Son of Paper will host a creative writing workshop for young artists. Students and aspiring young writers can sign up for this workshop
here
.
More on EntSun NewsAbout Contemporary Asian Theater Scene (CATS)
Founded in 1995 by visionaries Dr. Jerry Hiura, Steve Yamaguma, and Miki Hirabayashi, CATS has been a beacon for Asian American artists, providing a platform for their voices and talents. CATS has showcased comedians, authors, playwrights, musicians, performers, and filmmakers, enriching the South Bay's cultural landscape with a rich tapestry of AAPI artistic expressions. CATS also produces the annual Silicon Valley Asian Pacific FilmFest (formerly known as San Jose J-Town FilmFest). CATS is in San Jose's Japantown and is a 501c3 non-profit organization. More info at
https://www.catsasiantheaterscene.org
.
For more information about Crossing Rain, visit
https://www.crossingrain.com
.
For more information about Maui Strong Fund, visit
https://www.hawaiicommunityfoundation.org/strengthening/maui-strong-fund
.
Follow us on social media:
Instagram @catsasiantheater (
https://www.instagram.com/catsasiantheater
)
More on EntSun News
Facebook @catsasiantheater (
https://www.facebook.com/catsasiantheater
)
YouTube: @asiantheater (
https://www.youtube.com/@asiantheater
)
For media inquiries or to request an interview contact Cindy Toy.
Source: Contemporary Asian Theater Scene
---
0 Comments