EntSun News/10842625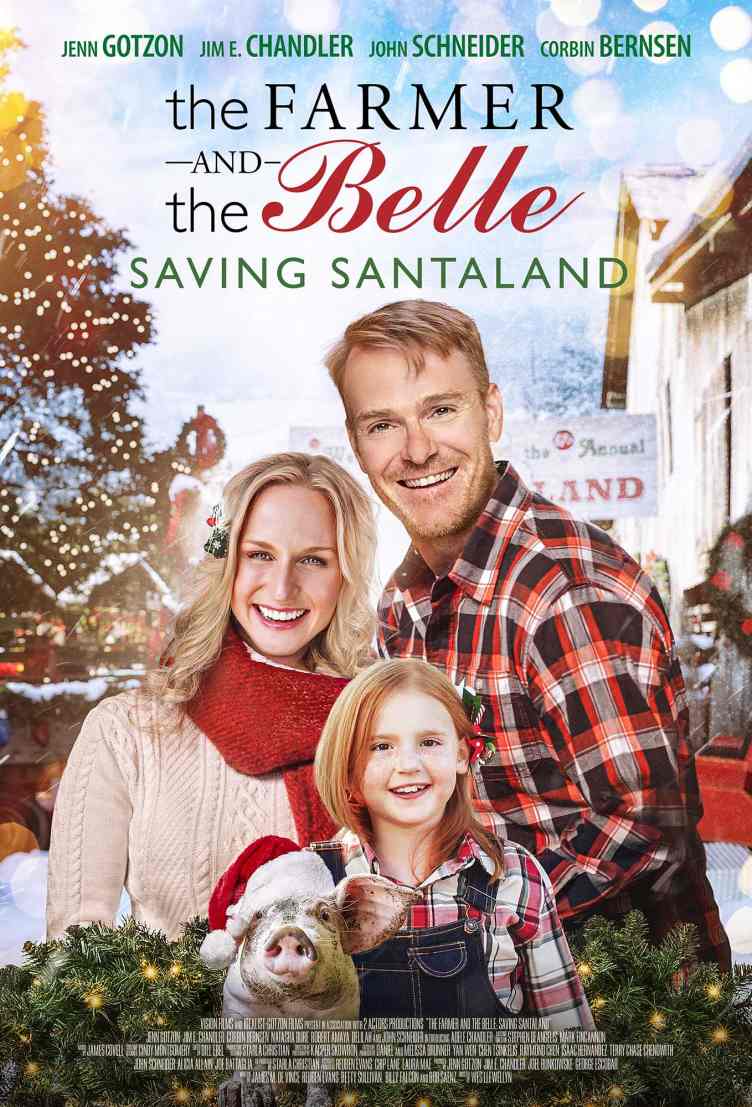 Destined for the Top 10 Christmas Movie Lists, 'The Farmer and the Belle: Saving Santaland' is Available November 17 on VOD, cable and DVD Bringing an Empowering Message for Today's Girls and Women.
NEW YORK
-
EntSun
-- The award-winning, must-see uplifting and family film
THE FARMER AND THE BELLE: SAVING SANTALAND
debuts on November 17, 2020, with a fun, heartwarming and entertaining story of finding the true meaning of beauty, true love and the real power of faith.
"The Farmer and The Belle: Saving Santaland" is a "funny Christmas movie for the family" in the style of a "Hallmark Christmas Movie" destined for the "Top 10 Christmas movie" lists
. Purchase the
Family Christmas Movie DVD
to make it a yearly holiday tradition for your family.
SYNOPSIS
Sparks fly between a famous model and a farmer with a young daughter when she visits her childhood home. The town is in danger of losing their beloved Santaland festival, but miracles can happen with a little love, family and faith.
"One of the sweetest Christmas movies I've seen. The cast is perfect, the acting superb and the focus on not only God but the true meaning of beauty warms the soul." -Courtenay Hall, former editor of BELLA Magazine.
Distributed by Vision Films, Inc., Mill Creek Entertainment, and Anchor,
THE FARMER AND THE BELLE: SAVING SANTALAND
features Jenn Gotzon (MY DADDY IS IN HEAVEN, FROST/NIXON), Jim E. Chandler (AMC'S Lodge 49,
Stranger Things
), Corbin Bernsen (MAJOR LEAGUE), John Schneider (
Dukes of Hazzard
), Natasha Bure (HOME SWEET HOME,
Fuller House, The Voice
), Delilah (nationally-syndicated radio host, I CAN ONLY IMAGINE, THE STAR), Robert Amaya (COURAGEOUS, OCTOBER BABY), Livi Birch (REDEEMING LOVE, TULSA), Henry Cho (McHALE'S NAVY), Sandra Lafferty (HUNGER GAMES) and introduces Adele Chandler.
More on EntSun News
"With so much content in the marketplace sending the wrong message to young girls, we wanted to offer a different perspective," said Jenn Gotzon, who stars in and produces the film. "There's a lie written inside a woman's heart when she is just a little girl, and that lie is, 'If you are beautiful, then you are worthy of love.' What people will learn – women and men – in
THE FARMER AND THE BELLE: SAVING SANTALAND
is God's view on beauty clearly seen – Body and soul, we are marvelously made! We are a treasured inheritance. It puts the focus of beauty on the heart and how we serve and love others."
The film also takes its important message beyond the screen with products that support the truth of beauty which will also be available on QVC on November 17:
PreSales, discounts and bundles available at www.TheFarmerandTheBelle.net/shop.
Source: SDI Entertainment
---
0 Comments