EntSun News/10801769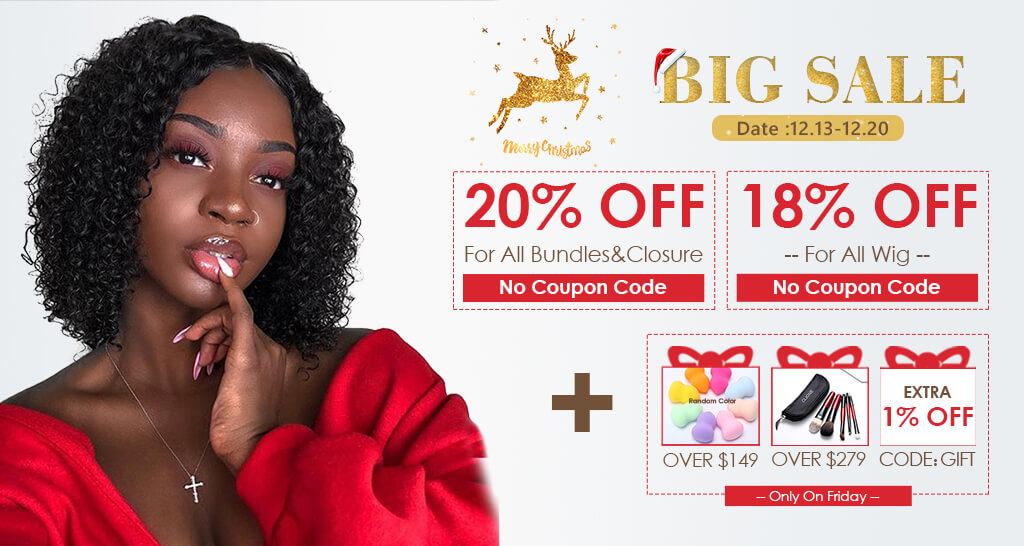 20% Off For All Human Hair Bundles, Bundles With Lace Closure&Lace Frontal and All Lace Closure/Frontal. 18% Off For All Lace Front Wigs. Date: Dec.13-Dec.20, 2019
SANTA FE SPRINGS, Calif.
-
EntSun
-- Beautyforever Year-end Crazy Christmas Wig Big sale will come soon on Dec. 13-Dec.20, are you ready? Let's take a look at the beautyforever year-end Christmas sale! Are you ready? Let's take a look at the beautyforever year-end Christmas sale!
All our hair is 100% human hair, If you need
human hair bundles
, the texture we provide are: body wave, loose wave, water wave, deep wave, natural wave, straight hair, Jerry curly, kinky curly, kinky straight and super wave. There are many more types: Brazilian hair, Indian hair, Malaysian hair, Peruvian hair. Here you have many options.
If you want to make a wig yourself, then you need
bundles with closure
. In addition to our regular 4x4
lace closure
, 13x4 Lace frontal, 13x6 lace frontal and 360 lace frontal, we also have 5x5, 6x6, 7x7 lace closure and 370 lace frontal. And we also have Transparent Lace, which is more natural than ordinary lace, Because it is closer to your skin tone. We can also provide $5 Make Into Wig, for only $5, Bundles make into wig.
More on EntSun News
Maybe you prefer our
wigs
. Not only do we have 130%, 150% and 180% density wigs, if you want your hair to look fuller you can choose our 250% density wigs. You can also try our new products Transparent Lace Wig and Fake Scalp Wig. Transparent lace wigs will make lace more invisible, making people unaware of its existence.
Fake Scalp Wig-This new fake scalp method addresses the stiffness caused by the glue method and makes it reusable with no washing problems. With the Fake Scalp/ Bald Cap Wig, you don't have to do cornrows, to use wig caps, to do bald cap method or fake scalp method. The hairline is pre-plucked to be natural, the elastic band is also pre-sewed for secure and snug glueless wearing.
Christmas Hair Big Sale:
20% Off For All Human Hair Bundles

20% Off For All Lace Closure/Frontal

18% Off For All Lace Front Wigs

Date: Dec.13-Dec.20, 2019
Notes: On the Dec.13 and Dec. 20:
More on EntSun News
The Discount Will Increase By 1%
Free Beauty Egg With Orders Over $149
Free Makeup Brush With Orders Over $279
Come and join the beautyforever Christmas party! You will definitely find something for you here. If you want to
wholesale hair
, please contact us.
Source: Beauty Forever Hair
---
0 Comments