EntSun News/10835938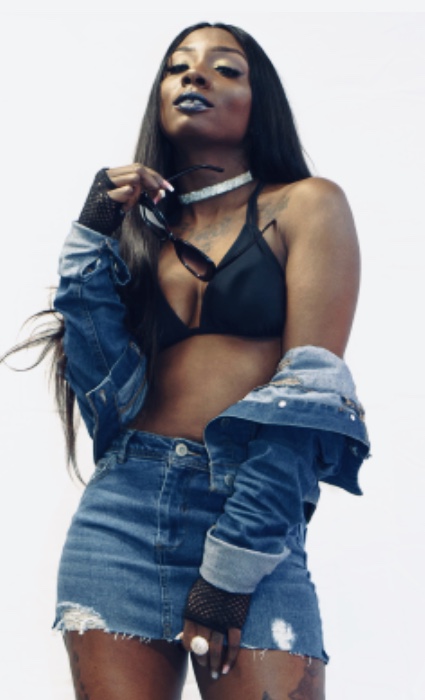 ATLANTA
-
EntSun
-- Born in Gastonia, N.C as Franchesca Mitchell, now known as Mizz Skyy. The first 3 years of my life, I lived with my mother, 5 siblings and grandmother in a 2-bedroom house. Around the age of 3, I meet my father finally who moved me in, to provide a better lifestyle in Washington D.C. Understand, he was a single father, raising a little girl the best he knew how. I was his only child, and a girl – so I had quite a few terrible hair days. Eventually, I moved back to live with my mother.
Fast forward moved back to D.C with my father for my 8th grade year. Also, I wanted to spend more time with him as he had gotten ill and the illness was getting worse. While being back in D.C, he had me try out for Duke Ellington School of Art to enhance my singing talent. Unfortunately, I didn't make it into Duke that year as they felt more development was needed so I moved back down south to attend school with my siblings. 2009 I lost my father and I want nothing more than him to know, I haven't given up on my dreams.
More on EntSun News
Today I have taken my music more serious than ever! Back in January 2018 I signed up for my first tour show which gave me the platform I needed to introduce people to who I was as an artist. I went into management 3 months later. I finally felt like I was building my team. I released my first single titled "Destined" August 25, 2018. 20k spins in less than a full year as a new artist was a great feeling for me! Months after my release I landed my first IHeart Radio interview. Many more radio interviews followed soon after. I was building my own platform with a team whom I trusted very much.
During that time frame of being under management I learned a lot, gained a lot, and lost a lot. I've already touched 5 different states (SC, NC, GA, MD, FL), and several cities within my first year of touring. I must say this road has not been easy by far especially having three kids who look up to me, but it's definitely been worth the hard work and dedication! I want my family to know that anything is possible as long as you work hard to achieve it. Having the support and raw motivation from others has only made it so much easier to go harder.
More on EntSun News
2019 I toured and opened for my first major artist and I was more than blessed to have the opportunity. It opened many doors and gained me even more supporters/fans. My focus now is to capitalize off everything I've learned my first year and to try not and make the same mistakes. It's unfortunate that I am no longer with the team I started with. Just like any relationship there is always unseen moments that leads to breakups. I wish no ill will on anyone! I just had to do what was best for me as an artist to reach that next level in my career. We all wish we can stay with people for a lifetime but it's not always in God's plan to do so.
2020 Here I am signed with 1017 Brick Squad as The ONLY Female Artists!! I can't wait to see what lies ahead as I further my career in this industry and one day everyone will know who Mizz Skyy is!
https://g.co/kgs/kE3aXv
Media Contact
BOBConsulting Group / Karen Hilton
pr@bsm1017.com
7144040296
Source: BOBConsulting Group
---
0 Comments