EntSun News/10789650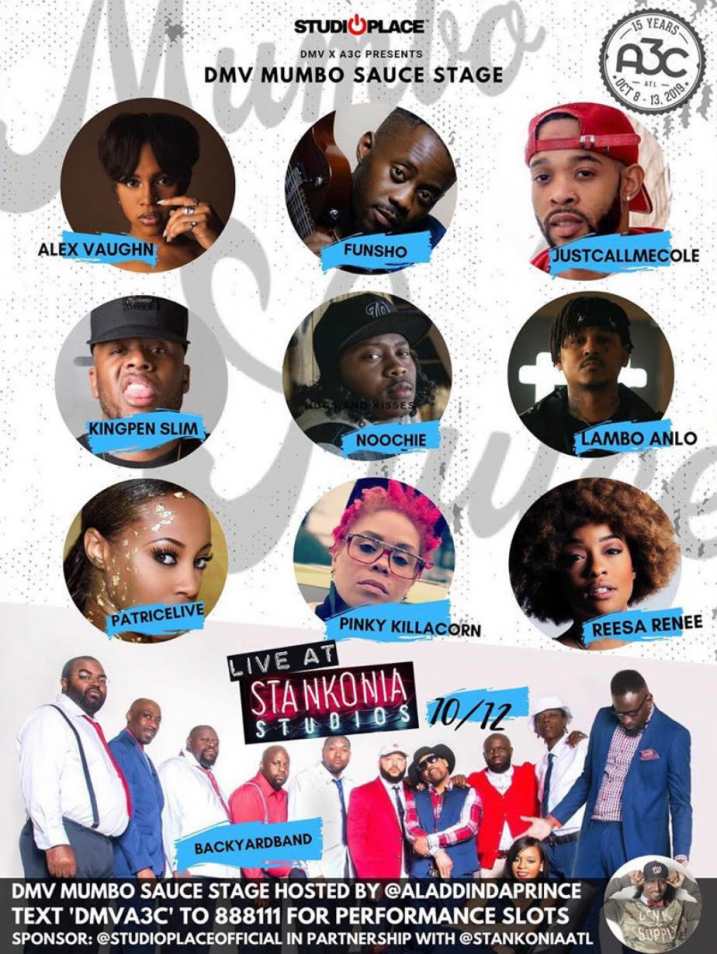 WASHINGTON
-
EntSun
-- Washington, DC is not usually viewed as a city to watch when it comes to music. As the Nation's Capital is deeply rooted in politics, entertainment is not the first thing that comes to mind. However, from October 10-12, 2019 in Atlanta, GA 15 artists from the Washington, DC area will descend upon Atlanta, GA to showcase the area's culture and talent at the wildly popular A3C Festival and Conference. The DMV Mumbo Sauce Stage is being presented by StudioPlace, an entertainment complex that specializes in developing artists. The goal is to bring the national music industry to the city so that artists can work, live, and be successful in the DC area. StudioPlace is sponsoring the trip for several city representatives, philanthropists, entertainment consultants, and artists to represent the city's interests on a national platform.
StudioPlace was created as a solution to the frustration of artists feeling like they need to leave the Washington, DC area to have a thriving career and to develop. The complex provides the artist with knowledge, experts, resources, event spaces, and multiple studios to assist them with developing and executing their music career goals.
More on EntSun News
A short few weeks ago, the artists were announced in a special Social Media roll out and they are as follows: Backyard Band, Funsho, Kingpen Slim, Reesa Renee, Noochie, Lambo Anlo, Pinky Killacorn, Alex Vaughn, JustCallMeCole and PatriceLive. In addition to the 10 artists listed, there are 5 more spaces open that will be filled by auditions being held and a selection board deciding who will round out the 15 to perform on the DMV Mumbo Sauce Stage, hosted by Aladdin Da Prince.
When asked about the DMV Mumbo Sauce Stage, Aladdin Da Prince stated "
It is a great experience to be a part of as I have been able to witness the growth of the music scene in DC. The fact we are able to now properly showcase some of our talent on a large platform will only continue to open more doors for our market."
For more information on DMVA3C and to secure your tickets to witness history, please visit
www.studioplace.com
. To keep up with the conversation and updates on social media, make sure to follow @DMVA3C on Instagram and follow #DMVA3C hashtag. If you're a media outlet interested in interviewing anyone from the StudioPlace team or any of the artists involved in support of DMVA3C, or interested in covering the stage on Oct. 12th at Stankonia Studios, please email pr@candicenicolepr.com.
Source: Candice Nicole Public Relations
---
0 Comments