EntSun News/10964557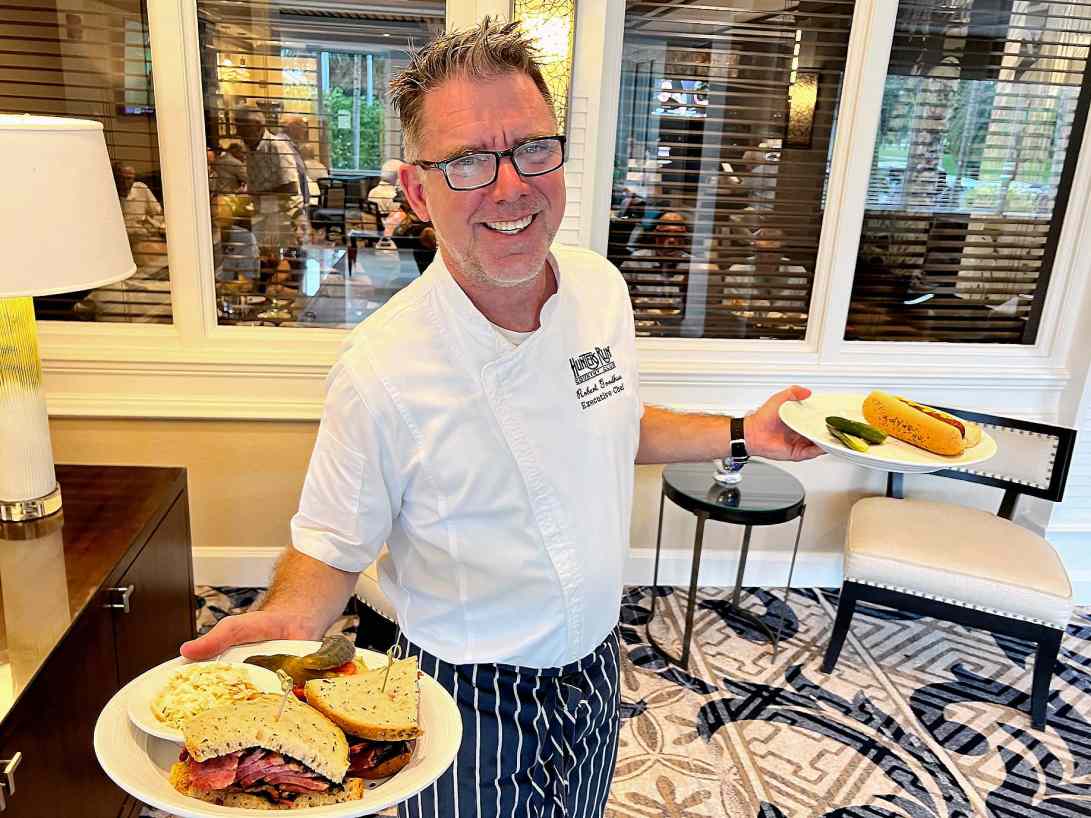 Luxury country club community now features Carnegie Deli's world-renown pastrami, corned beef, and hot dogs on its luncheon menu
BOYNTON BEACH, Fla.
-
EntSun
-- Whoever thought that when Milton Parker, or as he is known "The CPM" (The Corned Beef and Pastrami Maven)" who turned the Carnegie Deli into one of NewYork's biggest icons, that those incredible tastes and smells would grace the boundaries of Boynton Beach, FL? But now they do…and they can be found at
Hunters Run Country Club
,
This luxury country club community now features
Carnegie Deli's
world-renown pastrami, corned beef, and hot dogs on its luncheon menu.
"Throughout my career, I have been heavily inspired by both fine-dining French and Italian Chefs," said Hunters Run Executive Chef Robert Goodhue. "But I must admit the Carnegie Deli has had a pronounced influence on my opinion of the authentic New York deli experience. And, it has inspired
our kitchen
to see how many ways we can include it on our new menu. I am also very pleased to see the reception from our members who can't seem to get enough. A particular favorite of the Club is our Pastrami Reuben Sliders."
More on EntSun News
Larry Savvides, Hunters Run Country Club's Chief Operating Officer and General Manager, said, "The Carnegie Deli is well known for its enormous sandwiches and smoked and cured meats. It is easy to see how it became the iconic spot for entertainers, celebrities, and comics who gathered to enjoy a truly authentic New York deli experience. And now we are pleased to offer our members some of the authentic tastes from this world-renowned deli."
According to the Carnegie Deli, their pastrami recipe is what made the Carnegie Deli famous. Brined, seasoned, and smoked with their secret family recipe, it has become synonymous with authentic New York deli flavor. At Hunters Run, members and their guests also enjoy Carnegie's corned beef that is house-cured and then simmered long and slow, giving it that unique tender flavor. The Club has also upped its game with Carnegie Deli's all-beef frankfurters -- the quintessential New York hot dog that is juicy and jam-packed with great flavor that gives it a signature snap.
More on EntSun NewsAbout Carnegie Deli:
Carnegie Deli, founded in 1937, and located just offstage from Manhattan's theater district, quickly became the iconic spot for entertainers, celebrities, and comics to eat sandwiches the size of their heads. Fast forwarding to today, Carnegie Deli has become the quintessential New York deli and is known for its gargantuan sandwiches, smoked and cured meats, potato knishes, and creamy cheesecakes. The Carnegie Deli brings an authentic New York deli experience to deli lovers from all over the world.
Source: Hunters Run Country Club
---
0 Comments