EntSun News/10839936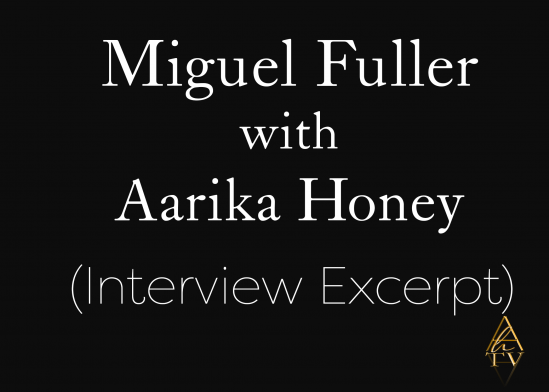 Poet Also Predicts Kevin Hart As World's First Billionaire Comic!
LOS ANGELES
-
EntSun
-- Voice Actor, and Spoken Word Artist Aarika Honey's team have just revealed that her trademark sultry vocals will hit airwaves in late October 2020. The news came just after her recent interview with Tampa's Power 101.5 Radio Host Miguel Fuller. Her Spoken Word single "Intellectual Lover" is the first offering from the album The Sweetest Words Ever Spoken. The scheduled release date for the single is October 23
rd
.
Two weeks prior to her spoken word single being released, her Official Youtube channel Aarika Honey T.V. will make its debut on October 10
th
, 2020. That's when viewers can hear the full interview for the first time. During their talk, Fuller, who has interviewed a string of Grammy Nominees and American Music Award winners got Honey to divulge her plans for her new channel. She also spoke about her inspiration for the highly anticipated single. It was during this portion of the interview that she revealed her belief Kevin Hart will emerge as the world's first billionaire comic.
More on EntSun News
Fuller was specially selected for Honey's first interview after her team observed his uncanny ability to put other celebrities at ease. The most important factor was that Aarika Honey herself fell in love with Fuller's vibe. Miguel Fuller's skillset is derived from over a decade in radio as a co-host and producer. The Atlanta, Georgia native began his professional career in Savannah at 97-3 KISSFM, and now Tampa, FL listeners tune in to HOT 101.5 to hear him on The Miguel & Holly Show on a daily basis.
Until recently Aarika Honey wouldn't use the Twitter account set up for her nearly six months ago, but she promised her growing fanbase she'd give it a try. Her favorite place to meet with her new fans is on her website at www.AarikaHoney.com.
Although her voice will be making the rounds, Ms. Honey will conspicuously remain out of site. She agreed to lay low until a visual project she is featured in is announced in late Fall. She agreed to the terms, because her chief aim with her YouTube channel is to compel people to "listen," a skill she fears is being diminished.
More on EntSun News
To hear the excerpt from Aarika Honey's interview which airs in full on October 10
th
on her YouTube channel Aarika Honey T.V. click here:
https://youtu.be/6f1RRgW2bVI
Be sure to Subscribe and click the Notification Bell to be among the first to know the moment the full interview is available. Aarika Honey is a T.V. Show Host, Spoken Word Artist, Model, Executive Producer and Entrepreneur. You can follow her on Twitter, and Facebook @realaarikahoney or visit her at www.aarikahoney.com.
Source: www.AarikaHoney.com
---
0 Comments