EntSun News/10892014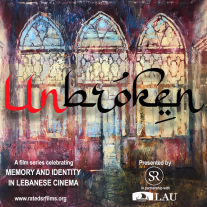 --In-person gala opening screenings at The Elinor Bunin Munroe Film Center at the Lincoln Center on August 17 with VIP reception
--Online streaming of films and live panel from August 18 through 21
NEW YORK
-
EntSun
--
SR Socially Relevant Film Festival
(SRFF) focuses on two sidebar events in August namely,
Un-Broken: Memory and Identity in Lebanese Cinema
(August 17-21), and
Rejoice, Resist: Black Indigenous People of Color Films
(August 29-September 2nd).
The first of the two events kick off with an opening at the Lincoln Center's Elinor Bunin Munroe Film Center with two hits from Lebanese Cinema, Ziad Doueiri's Oscar-nominated
The Insult
and the New York Premiere screening of Oualid Mouaness' debut feature,
1982,
with a Q&A on August 17, followed by a VIP wine reception courtesy of Storica Wines in the presence of participating filmmakers.
Un-Broken: Memory and Identity in Lebanese Cinema
is organized by SRFF together with festival partner LAU,
The Lebanese American University in New York.
FILMS screening in person on August 17 at the Lincoln Center are
The Insult | Ziad Doueiri | Lebanon, France, Belgium, USA | 2017| 103' at 6:00 PM (Courtesy of The Cohen Media Group).
1982 | Oualid Mouaness | Lebanon, Norway, France, Qatar | 2019 | 100' at 8:00 PM Q&A with the director.
There will be a
panel discussion on Thursday, August 19
hosted by LAU broadcast live, regular "Meet the Filmmakers" sessions, in addition to the online slate which includes award-winning narrative features by Maroun Baghdadi, Vatche Boulghourjian, Jocelyne Saab, Philippe Aractingi.
More on EntSun News
Documentaries by Carol Mansour, Soraya Umewaka, Sarah Kaskas, Paul Cochrane and Karim Eid-Sabbagh, Carmen Labaki as well as shorts by Zayn Alexander, Sabina Botros, Karim Kassem, and Ghada Youssef.
The series is presented in collaboration with the
Cohen Media Group
,
The Hagop Kevorkian Center at NYU
, N
adi Lekol el Nas
, I
ndiePix
,
SparqFest.Live
.
SR Film Festival Founder and Artistic Director Nora Armani said,
"This series focuses on memory and identity in Lebanese cinema to mark the first anniversary of the terrible explosion that shook Beirut. The shattered pieces are those of a rich cultural heritage and represent far more than the irreparable human and material losses."
LAU NY Executive Director Nadim Shehadi said,
"We are thrilled about LAU NY's third and closest collaboration with Nora Armani and the Socially Relevant Film Festival. LAU's performing arts programs are the oldest in the Middle East and LAU NY is a bridge between Beirut and New York. Right now, it's so important to celebrate Lebanese creativity and so much incredible filmmaking coming out of Lebanon today and over the past generation."
For
information and tickets
visit
www.ratedsrfilms.org
For Images and screeners write to
ratedsrfilms@gmail.com
ABOUT

SR Socially Relevant™ Film Festival New York
is one of the 100 best-reviewed film festivals on FilmFreeway.com. Submissions are now open for the ninth annual edition of SRFF which is scheduled to take place in March 2022. SRFF is a 501(c)3 non-profit film festival founded by actress Nora Armani in 2013. The Mission of the SR is to shine the spotlight on filmmakers who tell compelling, socially relevant™, human interest stories, across a broad range of social issues. The festival was created as a response to the proliferation of violence and violent forms of storytelling in media and entertainment. During its first eight years, the festival showcased over 500 films from 35 countries.
More on EntSun News
Spokespersons and guests of SR Socially Relevant™ Film Festival NY include Amy Goodman of Democracy Now, Erin Brockovich, Martin Sheen, Pulitzer Prize, and Tony award-winning writer Robert Schenkkan, prolific and best-selling French novelist Marc Levy, Academy Award Nominee and Emmy Award Winner Guy Davidi, American TV commentator and author Gretchen Carlson, and Liaison Officer of Tibet and the Dalai Lama, Kunga Tashi.
The Lebanese American University's New York Academic Center
is a multidisciplinary hub for global educational outreach and cross-cultural dialogue between the Arab World and America. It cultivates a diverse learning environment, fosters academic partnerships, expands the experiences of LAU students and faculty abroad, and increases the global visibility of the University. Central to its activities are public events that engage diverse audiences in topics pertinent to the Middle East.
Source: SR Socially Relevant Film Festival, Inc
---
0 Comments