EntSun News/10976638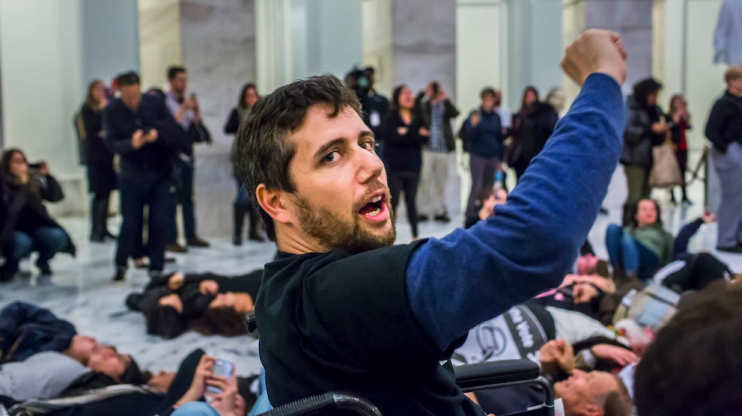 BERLIN
-
EntSun
-- "Not Going Quietly," directed by Nicholas Bruckman, produced by People's Television, and executive produced by Mark and Jay Duplass, has been awarded the Cinema for Peace Award for Political Film of the Year 2022 in Berlin. Cinema for Peace has largely been recognized by the film community as a powerful global initiative. With this year's Cinema for Peace Gala taking place during the Berlin International Film Festival, this marks an exciting moment for the People's Television team.
"Not Going Quietly" tells the inspiring story of Ady Barkan, a community activist whose life is turned upside down when he is diagnosed with ALS. After a confrontation with a powerful senator, Barkan becomes a national figure and ignites a political movement that transcends political divides. This latest award continues the remarkable run for the film, which premiered at the SXSW Film Festival and won both the Audience Award and the Special Jury Prize. The film was nominated for Best Documentary and Best Director at the IDA Awards, won a Critics' Choice Award for Most Compelling Living Subject of a Documentary, and received a Cinema Eye Honors Award. After receiving its television debut on PBS' "POV" program, it was released internationally on Vice Media.
More on EntSun News
Director Nicholas Bruckman has produced several award-winning independent films, including "Valley of Saints," which won the Audience Award at the Sundance Film Festival and the Asia Africa Prize at the Dubai Film Festival. His first documentary "La Americana" broadcast worldwide on networks including National Geographic and Al Jazeera. Bruckman also executive produced numerous short films, including "Rosa," which won Best Short at the Woodstock Film Festival and was acquired by HBO Max.
Bruckman is also the founder and CEO of People's Television, a production studio and creative agency that produces award-winning independent films and video storytelling for leading brands such as Airbnb, Greenpeace, Meta, and Dropbox.
The Cinema for Peace Award is a prestigious recognition given to films that make a significant contribution to the promotion of peace and justice. Previous winners include "Mayor," "The Report," and "Official Secrets." Other winners in this year's Cinema for Peace Awards include Oscar-winner Coda, 3x-Oscar nominee Flee, Writing with Fire, Courage, and The Caviar Connection.
More on EntSun News
People's Television and Bruckman are proud to share this award with Ady Barkan, whose powerful story inspired the film.
For more information on "Not Going Quietly" and upcoming screenings, please visit the film's official website at
www.notgoingquietlyfilm.com.
Source: People's Television
---
0 Comments