EntSun News/10994998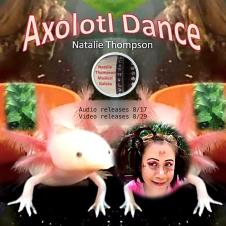 The video features the lovable axolotl named Strawberry, who invites viewers of all ages to join in a delightful experience that includes singing, playing peekaboo, learning fascinating facts and dancing the Axolotl style!
NASHUA, N.H.
-
EntSun
-- Strawberry, a charming Axolotl gifted by Santa, resides in a tranquil pond and boasts distinct features such as four toes on her front feet and five on her back.
"Oh my sweet Strawberry, you are a treasure to me" sings the heartwarming chorus of the music video, expressing the profound love and affection for this endearing creature.
The music video combines education with entertainment, offering fascinating facts about axolotl, making it an ideal watch for people of all ages.
The audio release is scheduled for August 17, 2023 on AppleMusic/iTunes, Amazon Music, Deezer, Spotify, Pandora, Tidal, YouTube, iHeartRadio, Qobuz....
Following the audio release, the highly anticipated music video "Axolotl Dance" will be available on August 29, 2023. But that's not all! For those who wish to make a difference while enjoying the music video. Natalie Thompson offers a special opportunity. By purchasing the video on
https://nataliethompsonmusicalgalaxy.com/product/913894
until August 31, 2023, 100% of the proceeds will be donated to The Multiple Sclerosis and Gateways Community Service. This gesture reflects Natalie's commitment to making a positive impact on the lives of others through her art.
More on EntSun News
Join us in supporting this charitable initiative and be a part of "Axolotl Dance" as it spreads joy and contributes to essential causes. Let's come together to celebrate music, dance and the spirit of giving back to the community. Viewer can track the donation goals
https://mssociety.donordrive.com/participant/374610
For Gateways Autism Center, the donation will be sent in at the end of the fundraising event, which emphasizes Natalie's dedication to creating a lasting and meaningful impact on the autism community.
Not only Natalie is donating 100% of the proceeds from the "Axolotl Dance" music video to Multiple Sclerosis and Autism causes, but she is also donating all proceeds from her merchandise sales to meet her donation goals. The merchandise boasts two designs - a cover song design and the adorable Axolotl on a beautiful Christmas background, making the perfect gifts for all occasions. Natalie's merchandise is available on Amazon at
https://amzn.to/43HYgiD
More on EntSun News
About Natalie Thompson:
Natalie Thompson is an acclaimed musician, lyricist, composer, producer and performer known for her soulful voice and heartfelt composition. Through "Axolotl Dance", she aspires to raise awareness and funds for Multiple Sclerosis and Gateways Community Services Autism Center, fostering a sense of unity and compassion.
LINKS
Preview "Axolotl Dance"
https://youtu.be/meBHfYxC7pU
Pre-save AppleMusic
https://music.apple.com/us/album/axolotl-dance-single/1696028543?ls=1
https://artists.spotify.com/c/artist/3Xse926lpD...
Source: Natalie Thompson Musical Galaxy
---
0 Comments