EntSun News/10852581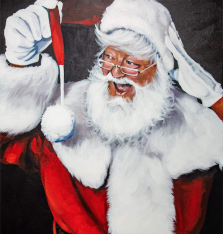 MIDLAND, Mich.
-
EntSun
-- Musician/artist Mike McMath of Empty Canvas is excited to introduce his new Christmas song,
Santa's Looking For His Hat,
just in time for the 2020 holiday season. The song is available for download on
Amazon Music
,
Apple Music
, and
Spotify
.
The whimsical song idea came from the desk of his first-grade daughter, and he used the idea to create a catchy Christmas tune. "My daughter is older now, but her clever story stuck with me for years. I played around with the song until I felt like I had something fun and different," said McMath.
Santa's Looking For His Hat
sales will be accompanied in 2021 by a Children's book, illustrated by McMath himself, a Santa hat ornament, and an interactive scavenger-hunt-style interactive website for children. "This isn't just a song for this Christmas season; I believe it could become a household tune for years to come," said McMath. "It's an experience. When Santa's looking for his hat, so are we."
More on EntSun News
McMath started recording the song during the 2019 Christmas season, however 2020 hit the artist hard with the loss of several family members. "It's been a long year for everyone, and I'm excited to introduce something that will spark joy and maybe even a chuckle or two," said McMath.
Santa's Looking For His Hat
was recorded by Mike McMath at Reed Recording Company in Bay City, Michigan, accompanied by Great Lakes Bay-area musicians Scott McMath, Brad Graham, Mike Robertson, and Andy Reed. The voice of Santa is performed by Paul W. Felch from Three Men and a Tenor fame.
Source: Mike McMath
---
0 Comments