EntSun News/10881362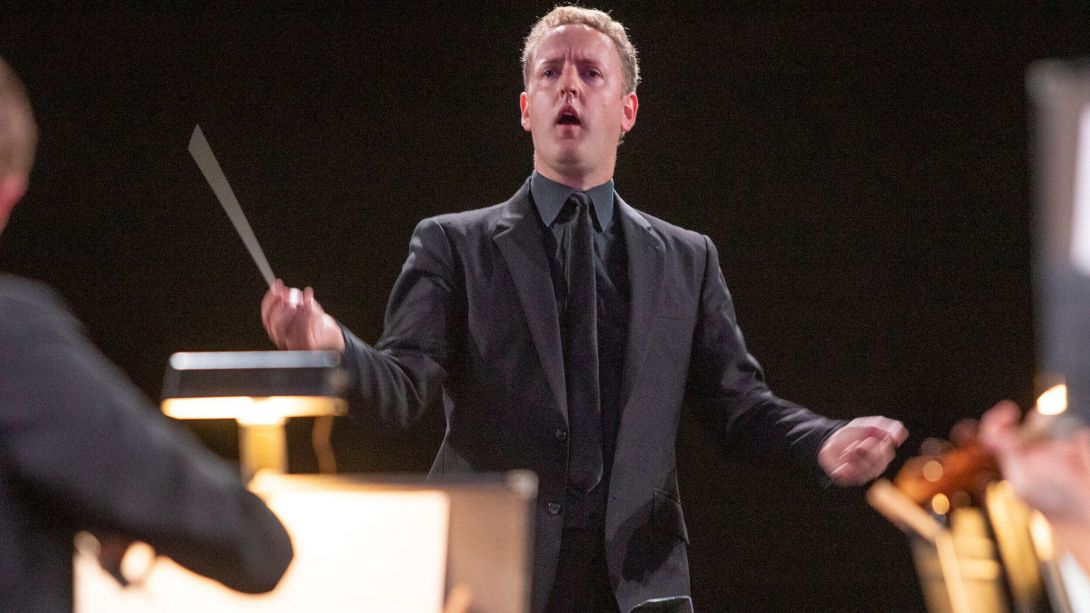 SAN DIEGO
-
EntSun
-- Mainly Mozart today announces the 2021 All-Star Orchestra Festival at the Del Mar Surf Cup Sports Park from June 11-19, 2021. This event welcomes the return of in-person, socially distanced, assigned seating in an outdoor venue. With five concerts featuring members of prestigious orchestras, this festival presents well-known works, ranging from Mozart to Beethoven to J. Haydn to name a few.
As the Music Director, Maestro Michael Francis forges collaborations with talent from the world's leading orchestras, from members of the San Diego Symphony to the Metropolitan Opera Orchestra to internationally renowned Toronto Symphony Orchestra. As the largest gathering of concertmasters and principal players in North America, Mainly Mozart's June All-Star Orchestra programming will feature the following:
Opening Night – Friday, June 11, 2021 @ 8pm PST
MOZART: Symphony No. 40, G minor, K. 550
BEETHOVEN: Symphony No. 5, Op. 67, C minor
Hayden Trumpet & Mozart 39 – Saturday, June 12, 2021 @ 8pm PST
RAVEL: Le Tombeau de Couperin
J. HAYDN: Trumpet Concerto, E-flat Major
Soloist: Trumpet - Conrad Jones.
MOZART: Symphony No. 39, E-flat Major, K. 543
The Virtuoso & Mozart Eine Kleine – Wednesday, June 16, 2021 @ 8pm PST
MOZART: Eine kleine Nachtmusik (Serenade, K. 525)
BRUCH: Violin Concerto No. 1, Op. 26, G minor
Soloist: Violin - David Kim.
KODÁLY: Dances of Galánta
Mozart & Beethoven – Friday, June 18, 2021 @ 8pm PST
MOZART: 5 Contradanses for Orchestra, K. 609
BEETHOVEN: 12 Contradanses, WoO 14
ARVO PART: Fratres for solo violin, string orchestra and percussion
Soloist: Violin - Martin Chalifour.
BEETHOVEN: Symphony No. 3, Op. 55, E-flat Major Eroica
Closing Night – Saturday, June 19, 2021 @ 8pm PST
MOZART: Piano Concerto No. 24, C minor, K. 491
BEETHOVEN: Symphony No. 7, Op. 92, A Major
"We look forward to welcoming audiences back to in-person performances showcasing the orchestral brilliance of the top musicians from the New York Philharmonic, Philadelphia Orchestra, San Francisco Symphony, LA Philharmonic, and dozens more," said CEO Nancy Laturno. "With audiences coming from all over…from Los Angeles to Laguna Hills to Palm Desert to San Diego, the excitement is overwhelming for both the performers and the audience especially since it will be in-person, together, and allows music enthusiasts to re-live the magic of live music the way it is meant to be experienced."
More on EntSun News
Seating will be located on the grass area with VIP table seating for four and socially distanced "pod style" seating for households of up to four people at the Del Mar Surf Sports Park, formerly known as the San Diego Polo Fields. Tickets for pods start at $49/pod in section B and $100/pod in section A; $100/VIP Seat; and $500/VIP Table (which would include charcuterie plate, bottle of sparkling wine, and your choice of sparkling or still water.).
For information on the Mainly Mozart All-Star Orchestra Festival or to purchase tickets, please visit
https://www.mainlymozart.org/
Source: Mainly Mozart
---
0 Comments