EntSun News/10831412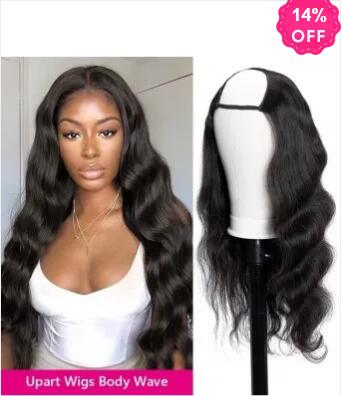 Discover the 100% human hair wigs of the u part wig at jurllyshe.com. Jurllyshe new in body wave u part wig can blend your natural hair very well.
DETROIT
-
EntSun
-- In Jurllyshe wigs store, you can find the u part wig human hair now, it is one of the most protective wig styles. We have the other wig cap human hair wigs before such as the full lace wig, lace frontal wig, 4x4 closure wig, 360 lace wig etc. Now we will main talk about the u part wig.
What Is A U Part Wig?
U-shaped wig is a wig sewn on a U-shaped cap, with a clip and an adjustable belt on the back. The U-shaped wig allows you to fuse your hair through a specific U-shaped opening on the top of the wig. Therefore, this opening gives you the opportunity to fuse your own parts, expose your scalp, and make your hairline look more natural. Jurllyshe u part wig is designed in 3x4 inch. You can make the middle part, left part and right part of hair parting.
More on EntSun NewsThe Benefits of the U Part Wig Human Hair

* Save Time
No need to sew on each track. Within a few minutes, you can install your U-shaped parts on and head out.
* Perfect blend your natural hair
The U-shaped parts allow you to remove them freely, take care of your hair and scalp, and then reinstall the wig.
* Versatility
Since the U-shaped parts are manufactured by you, you can freely customize a part every day of the week.
* Tension is reduced.
If you usually wear sewing, U-shaped parts allow you to skip tight braids and stress on the edges.
Since the u-part wig is the most seamless blend wig, you will want to use the hair wig that most closely matches your own hair texture, our hair can be styled.
Besides the u part wig, we have launched the high end 100%
human hair wigs
, you can choose the hair wig you want. If you want to DIY sew in u part wig with weave hair by yourself at home, come to Jurllyshe.com.
More on EntSun NewsJurllyshe Weave Hair & Wigs
We have high grade weave hair and wigs in different styles: straight wave hair, body wave, curly hair and deep wave hair with natural color can be dyed. Jurllyshe wigs and human hair is 100% unprocessed virgin hair, no shedding & no tangle, soft, comfortable, can be curled and restyled.
Shop the u part wig,
fake scalp wig
and weave hair for your own needs. All we need to do to offer the cheap wigs and human hair with high quality, 24 hours customer service is there, fast delivery!
Source: Jurllyshe
---
0 Comments