EntSun News/10971839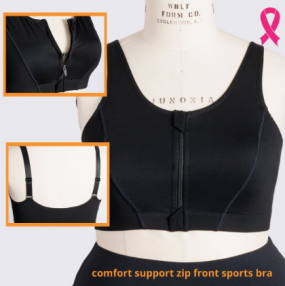 BURNSVILLE, Minn.
-
EntSun
--
JunoActive
, a premium plus-size women's activewear brand, announced a new line of plus-size sports bras. Included are two designs:
Comfort Support Zip Front Plus-Size Sports Bra
and
Comfort Support Back Clasp Plus-Size Sports Bra
.
This is the first technically designed plus-size sports bra for JunoActive, loaded with stand-out features that are hard to find in sports bras for plus-size women, including: zip front and back clasp closures, adjustable straps, and mastectomy-friendly breast insert pockets.
The plus-size front closure bra design provides an easy-on, easy-off application for those that might struggle with pull-on bras due to surgeries, various back, arm, neck injuries and other mobility challenges. The back clasp closure design ensures the correct and comfortable fit of the band. Both plus-size sports bras have adjustable straps as well for additional personal adjustment, exceptional fit and comfort. The high quality dual layer, nylon/spandex performance fabric has wicking properties that pull moisture away from the skin for added comfort, making this an exceptional sports bras for plus-size women.
More on EntSun News
The concept and design of the new Comfort Support Bras is about "anticipating the needs of the plus-size woman and providing more options for them. We want our customers to feel empowered in joining in any and all activities they desire, with the confidence in knowing their bras are up to the task.", said Renae Redenius, Technical Designer. "We're especially proud to offer our first mastectomy-friendly breast insert bra. The great thing about the insert pockets is that if you don't need to use them, you won't even notice they are there."
The Comfort Support plus-size bras are available now at
JunoActive
. Tailored exclusively for plus-size women size XL - 6X, the Comfort Support Bras will provide effortless all-day leisurely comfort and high impact plus-size support for the active plus-size woman.
About JunoActive
Established in 1995 and woman-owned, Minnesota-based JunoActive empowers plus-size women to define their active lifestyle. JunoActive sources high-tech fabrics that last much longer than typical fast fashion active women's clothing. All of JunoActive designs are made with measurements and fittings taken from real, plus-size women's bodies. With one of the largest size ranges (XL to 6XL) available in the women's plus-size activewear market, JunoActive continues to innovate design features that are unique to the plus-size body, including chafe-reduction, bust support and heat management. For more information visit
www.junoactive.com
, or follow @junoactive on Instagram, @junoactiveofficial on Facebook and @JunoActivePlusSize on Pinterest.
More on EntSun News
Source: JunoActive
---
0 Comments