EntSun News/10978070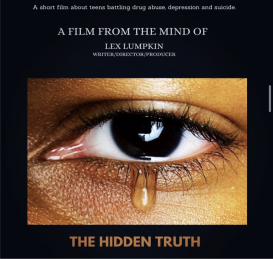 "The Watchful Eye" actor Lex Lumpkin is set to premiere his new film The Hidden Truth on Saturday, March 11.
LOS ANGELES
-
EntSun
--
The Watchful Eye
actor
Lex Lumpkin
is set to premiere his new film
The Hidden Truth
at the Sepulveda Screening Room on Saturday, March 11th, 2023, at 6:30 p.m. The film focuses on the importance of mental health illness among teens.
Celebrity guest speakers Scarlet Sofia Spencer (#BlackAF), Maurice Benard (General Hospital), and Frank Shamrock (Professional MMA) are set to speak to the audience about the importance of mental health awareness. Mr. Lumpkin feels strongly about advocating against the stigma surrounding mental illness and urges others to be advocates as well.
According to the National Institute of Mental Health, an estimated 4.1 million adolescents (ages 12 to 17) in the United States have suffered at least one major depressive episode representing 17.0% of the U.S. population. 50% of mental health problems are established by age 14, and 75% by age 24. Statistics show that 60% of suicides are committed by individuals who previously suffered from depressive episodes. With suicide being the fourth leading cause of death amongst young adults, the need for education and awareness is at an all-time high.
More on EntSun News
Lumpkin states,
"The Hidden Truth
originally came to me in February of 2020. The pandemic heavily influenced this film. Having gone through long periods of quarantine left many of us feeling alone and isolated. With teen suicide at an all-time high, I wanted my viewers to be able to connect with Jordan and his loneliness. I wanted to bring awareness that depression, suicide, and drug abuse doesn't discriminate against age, race, gender, or ethnicity."
This film has received notoriety among several film festivals, including Best Script For A Short (Palm Springs Film Festival), Best Performances (Black Feedback Film Festival), Best Special Visual Effects (San Jose Independent Film Festival), and Cinematography (Chicago Filmmaker Awards), along with four other nominations.
We hope this film will bring more awareness to this rising epidemic and inspire the viewers to help take away the stigma that surrounds mental health.
Source: Mayhem Entertainment Public Relations
---
0 Comments