EntSun News/10788803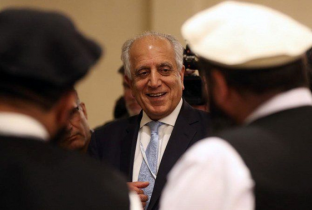 Trump wants US forces to stay in Afghanistan long after peace agreement with Taliban reached. The Taliban wants foreign occupation to end.
OTTAWA
-
EntSun
-- The Afghan people are closely watching the ongoing peace process which includes the US, Taliban and Afghan government. US President Donald Trump recently said that even after Taliban peace agreement is successful, about 8,600 forces would remain in Afghanistan.
But the injustice and corruption continue for which the Afghan government and US are involved including airstrikes on hospitals and the recent Kabul bank scandal involving the brother of former President Hamid Karzai.
The socio-economic conditions along with political landscape in Afghanistan seems to be fragile which is closely linked to India-Pakistan societies who often harbour refugees in their country and somewhat have the same currency.
While much progress has been made in Afghanistan as far as the private sector and communication channels are considered, but we need not forget that foreign, internal and opposition forces have fought in the land for so-call return of peace to the country and they continue today to die for peace.
More on EntSun News
The landscape of war-torn Afghanistan has about four different actors who are involved in furthering the war: the Taliban, the US and Afghan forces and Daesh fighters. Each uses their own set of tools, for example, suicide bombs, airstrikes, rockets and direct attacks including various vehicles like motorcycles and cars.
Trump does not want to repeat the same mistake as former President Barack Obama made in Iraq. However, Trump by keeping forces long after peace agreement reached and when Taliban repeatedly asked for foreign occupation to end, the remaining fighters as pointed out, would likely continue to pose a threat.
Abdullah Abdullah candidate for Afghan presidential elections said that he would favour delay of the Afghan elections for peace with Taliban and have elections afterwards.
The U.S. government would continue to support Afghan forces to keep stability in the region. But Ashraf Ghani, the President of Afghanistan has yet to sit down with the Taliban to discuss the issues and government positions and so forth. Zalmay Khalilzad, US special representative for the peace talks will visit Kabul this week to update Ghani on current talks according to Sediq Sediqi presidential spokesperson.
Written by Meladul Haq Ahmadzai, Afghan-Canadian political analyst based in Canada.
Source: Ahmadzai
---
0 Comments