EntSun News/10952495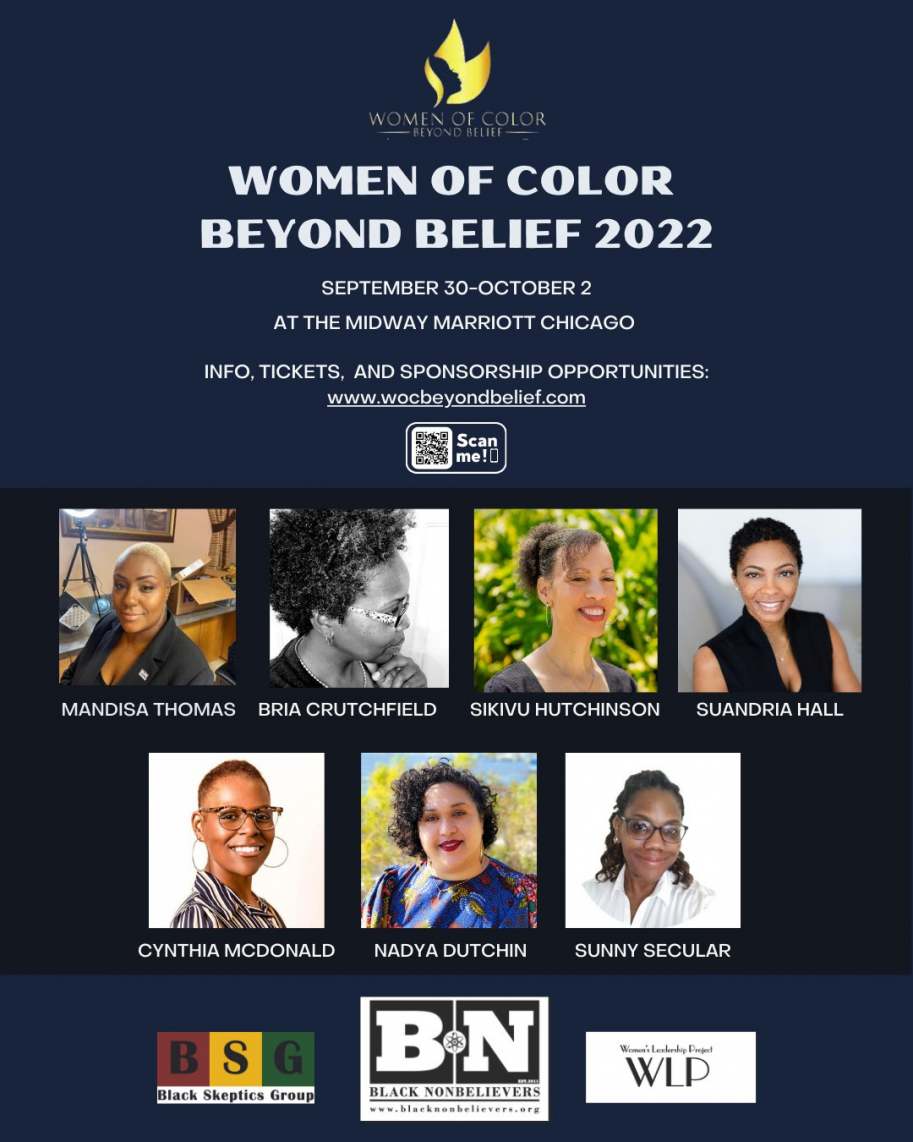 CHICAGO
-
EntSun
-- Presented by
Black Nonbelievers
, the
Black Skeptics Group
, and the
Women's Leadership Project
, the
Women of Color Beyond Belief Conference
is the only national secular forum exclusively focused on the perspectives of women of color atheists, agnostics, humanists, freethinkers and skeptics. The conference highlights the social justice work of women of color within the secular community, and provides an intersectional, unapologetically Black and BIPOC (Black, Indigenous, People of Color) feminist vision of leadership and activism in secularism. In light of white Christian nationalist backlash against reproductive rights, anti-racist education, and LGBTQI+ civil rights, the conference will directly address how BIPOC community organizing and education are changing the narrative of white mainstream secular advocacy. This year's conference will prominently feature Gen Z Black and Latinx secular women of color, who are a crucial part of the growing "Religious Nones" demographic shift among American youth.
More on EntSun News
Conference organizers Bria Crutchfield, Sikivu Hutchinson, and Mandisa Thomas state, "The Women of Color Beyond Belief team is committed to uplifting BIPOC secular feminist activism and organizing. The recent SCOTUS decision obliterating Roe, and the constitutionally protected right to abortion, will have a devastating impact on communities of color. As more women of color reject the fallacies of organized religion and faith-based dogma, it is critically important that their voices and lived experiences have a national platform."
Student and low-income attendee rates are available, and childcare will be available for the in-person event. Streaming options will also be provided for those who cannot attend in person.
The conference will also feature "
Secure The Bag Part 2
", a meal packing service project that will feed thousands of families in the Greater Chicago area. Co-sponsored by GO Humanity (
https://gohumanity.world/
), conference registration is not required to participate, but is strongly encouraged.
More on EntSun News
Sponsors for Women of Color Beyond Belief 2022 include: Freedom From Religion Foundation, Compassion and Choices, American Atheists, and the American Humanist Association.
WOCBB 2022 Dates and Venue
September 30-October 2, 2022
Marriott Chicago Midway Hotel
6520 S. Cicero Ave
Chicago, IL 60638
Website and Information: www.wocbeyondbelief.com
Contact: Sikivu Hutchinson, shutch2396@aol.com, 213-703-6982 or Mandisa Thomas, mandisa@blacknonbelievers.org, 404-213-9655
Source: Women of Color Beyond Belief
---
0 Comments