EntSun News/10891660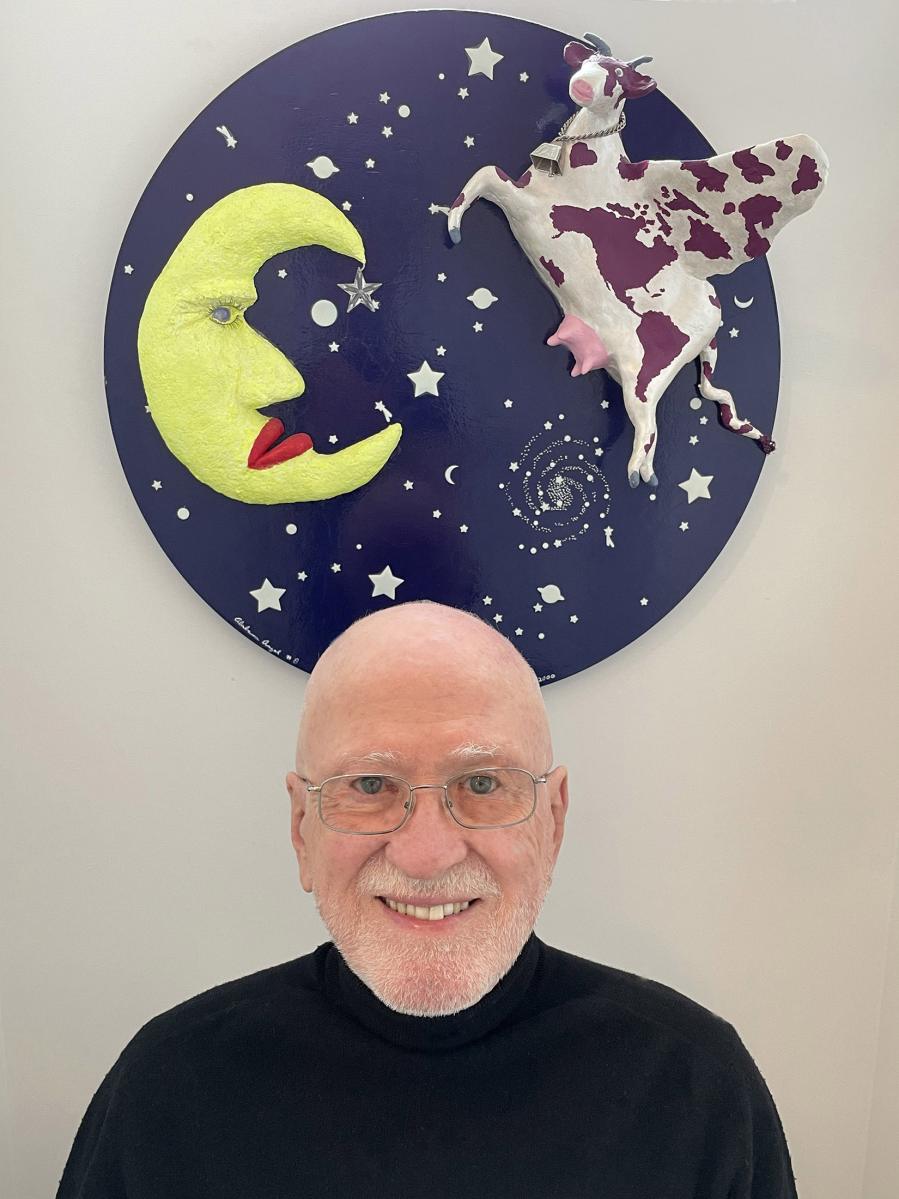 Just ask the author of a newly published children's book, "Astra the Flying Cow"
MINNEAPOLIS & SANTA FE, N.M.
-
EntSun
-- What did YOU do during the enforced isolation of a pandemic, with lots of time on your hands?
If you're Robert Borson, you dusted off a children's book manuscript you wrote years ago and started creating illustrations for it. The result:
Astra the Flying Cow
, a story set in southwestern Minnesota, where Borson grew up on his family's farm.
Fascinated since childhood by the "Hey Diddle Diddle" nursery rhyme, Borson created a wall-mounted sculpture inspired by that theme when his grandson was born. It featured a purple-spotted cow, with wings, flying over the moon against a starry backdrop. Touch the cow's purple heart, and Astra moos, thanks to an electronic device implanted in the sculpture.
While working on the art piece, the story line for
Astra the Flying Cow
formed in Borson's mind. But it took a pandemic for him to finally create dozens of colorful illustrations to flesh out the equally colorful characters in the story: like feisty Michelangelo Mouse ("don't call me Mickey") and others who help Astra escape captivity in a traveling circus.
More on EntSun News
"After all the time I've spent with Astra–sculpting her, writing her story, illustrating her–Astra is not a fictional character. In my mind she is as real as any of the cows I knew as a kid."
Astra the Flying Cow
is available through Amazon as a paperback or an e-book:
https://tinyurl.com/u8hff6eb
.
Author's Bio:
Robert Borson graduated from Minneota High School, in Minneota, Minnesota, in 1956, and from Concordia College, in Moorhead, Minnesota, in 1960. His career as a writer/editor took him over a span of four decades to Chicago, Stockholm, Madrid, New York, Sacramento, and San Francisco. In California he worked as chief speechwriter for Bank of America, then headquartered in San Francisco, before starting his own communications company. There he served clients such as Charles Schwab, Visa, and Hewlett Packard. Later in life, he moved to Birmingham, Alabama, where he began creating a series of phantasmagorical winged sculptures, such as the namesake of his new children's book
Astra the Flying Cow
. Other sculptures included the "Newsboy Angel," now part of the art collection at Birmingham's Civil Rights Institute. Borson currently lives with his wife (Susan) and cat (Sam) in Santa Fe, New Mexico.
Source: Robert Borson
---
1 Comment
CISA certification Training:
this is very helpful article .