EntSun News/10852429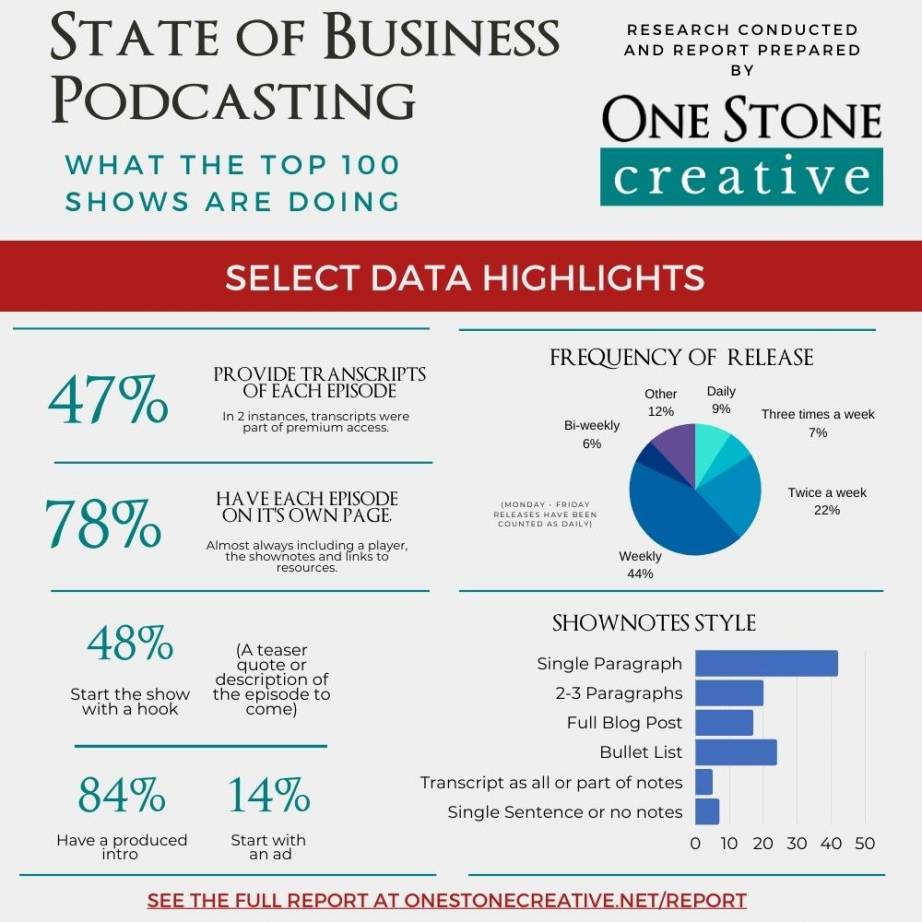 No one knew for sure, so One Stone Creative analyzed more than 30 of datapoints for 100 podcasts to find out!
GATINEAU, Quebec
-
EntSun
-- At the end of November,
One Stone Creative
released a research report about the top 100 business podcasts. The report "
The State of Business Podcasts, 2020
," is a deep dive analysis into more than 30 datapoints for each of the top 100 podcasts categorized as Business by Apple Podcasts, as of October 15
th
and reported by Chartable.
The report analyses data in 5 categories:
Age and Releases
– How long have these shows been creating episodes, and what does the frequency of release look like?
Branding and Monetization
– What role do networks, sponsors, and audio-visual branding play?
More on EntSun NewsShow Parts and Technology
– How are the top shows structured, and how are they delivered?
Show Notes and Websites
– How much content goes along with each episode, and how are the shows displayed?
Social Media
– How are shows being promoted and on which platforms are audiences being curated?
"While there is no such thing as a hard and fast rule for podcasts," says One Stone Creative co-founder, Megan Dougherty, "we now have a baseline for what the most popular business podcasts are doing. This data can be used inform the many decisions that go into designing and optimizing new and exisiting podcasts."
The first annual State of Business Podcasts Report is available at:
https://OneStoneCreative.net/Report
Source: One Stone Creative
---
0 Comments