EntSun News/10772702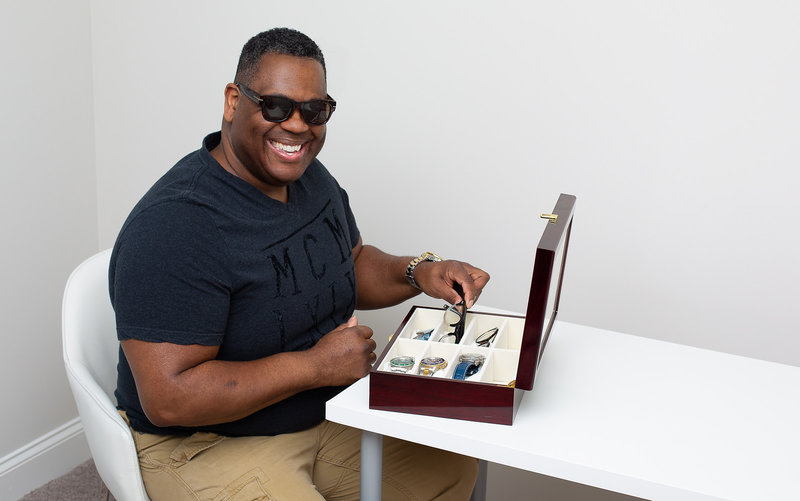 Classy Sunglass Storage Idea for People with Multiple Pairs of Sunnies
MARIETTA, Ga.
-
April 12, 2019
-
EntSun
-- Roomganize, a Georgia based company, whose motto is to put the fun into organizing, late last year released a luxury sunglasses organizer made of polished wood and lined with soft felt that holds eight pairs of shades.
The days of sun are just around the bend. The beaches will be crowded. People will be beach-accessorizing (showing off their collection of sunnies wherever they go). This brings up a problem faced by many people who own dozens of pairs of sunspecs. Where does one put them all?
The options for storing a lot of shades: (a) having a bunch of single sunglasses cases and somehow finding some place to store those cases, (b) owning a multiple-pair sunglasses organizer box or (c) just strewing the sunglasses about in the house and car and trying to find that one pair that matches the outfit of the day.
More on EntSun News
Option (b) in the above paragraph seems to be the most practical, but most sunglass organizers that hold several pairs of eyewear are made of fake leather and look really cheap. Nice wooden ones found in good department stores are too expensive for most people.
Leo Babauta of Zen Habits, in an article entitled "27 Great Tips to Keep Your Life Organized" on his site (
https://zenhabits.net/27-great-tips-to-keep-your-life-organized
) gives some great organizing tips.
Leo could have mentioned Roomganize's sunglass organizer and jewelry case as an item to help anyone wanting to organize sunglasses, wallets, jewelry, coins, iPhones, and on and on. It easily holds eight sunglasses.
A spokesperson for the company, Samuel Whitfield, says: "We at Roomganize try to source products that are unique, useful and affordable. Our customers value us as evidenced by the glowing reviews we get. One person wrote, 'These boxes are beautifully made of quality wood and great hinges. The compartments are the right size, and very nicely lined. I have looked at many boxes and I am very happy with the Roomganize boxes. I have one box for sun glasses and one for regular glasses. I would highly recommend them to anyone who really takes care of their glasses.'"
More on EntSun News
Roomganize has designed products to make home life more organized and free of clutter. Those interested in learning more about the Roomganize line can go to the company's official website (
www.roomganize.com
) or their Amazon storefront (
www.amazon.com/stores/page/0219314F-2480-4243-AA4B-0FC07A03B875
).
Source: Roomganize
---
0 Comments