EntSun News/10978778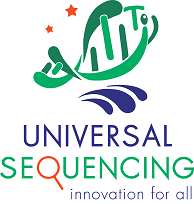 CARLSBAD, Calif.
-
EntSun
-- Universal Sequencing Technology Corporation (UST), a global leader in genomic sequencing innovations, announced today the release of a high throughput microbial WGS library preparation kit enabling 2nd-generation short-read sequencers to produce long-range results in a much affordable price for microbial genomes.
With this special high throughput kit, users can pool more microbial samples in one sequencing run in combination with our 96-well plate multiplexing primers, which includes 10-base indexes and significantly reduces NGS library preparation and sequencing costs.
Researchers will now be able to take advantage of the ultra-long linked-read results to provide unparalleled genomic information with up to 200Kb gDNA fragments for microbial genome analyses.
With TELL-Seq technology, we've made NGS library preparation easy. Our products effectively improve performance, process time, and budget across a broad range of sample types with a proven track record.
Dr. Tom Chen, Chief Scientific Officer of UST, stated, "We are further streamlining the TELL-seq workflow with reduced cost per reaction and expanded throughput in response to increased customer demands."
More on EntSun News
UST's TELL-Seq is a patent-pending transposase-based linked-read library preparation technology that enables short-read 2nd generation DNA sequencing platforms, such as Illumina sequencers, to produce long-range sequencing results (averaging linked-read molecule length greater than 40kb and up to 200kb). With a simple workflow, a sequencing-ready Illumina library can be prepared in PCR tubes in about 3 hours, cost-effective and no special lab equipment needed.
ABOUT UST
Universal Sequencing Technology Corporation (UST), a Boston and San Diego-based NGS biotechnology company, was established by a group of NGS veterans. UST is dedicated to developing the most advanced DNA sequencing technologies and has filed more than 20 PCT patent applications covering linked read NGS library preparation, single-cell sequencing, and groundbreaking 3rd-generation DNA sequencing technologies. UST is poised to lead the next wave of DNA sequencing innovations.
www.universalsequencing.com
Source: Universal Sequencing Technology Corporation
---
0 Comments