EntSun News/10976942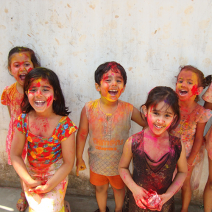 Instagram live q&a's {@ukwmedia}
Thursdays @ 7 pm et/ 6 pm ct/ 4 pm pt
NEW YORK
-
EntSun
--
UKW MEDIA
brings you great multicultural family entertainment on ROKU, Amazon Prime, and Vizio during the month of March, starting with:
Thursday, March 2, 2023- A thought provoking discussion on the rich history of Holi, an ancient Hindu festival celebrating the arrival of spring. We will delve into the traditional celebrations, the meaningful symbols and rituals associated with Holi and gain a deeper appreciation for this vibrant and joyous festival.
Thursday, March 16, 2023- Balancing the demands of Motherhood, Career and Family: TereZa Hakobyan's journey as a working mom during Women's History Month. And watch 'From Fat Lolli to 6 Pack Lolli: the Ultimate Transformation Story' featuring husband Anthony Lolli's incredible weight loss journey – now on UKW MEDIA!
Holi (March 8, 2023) is a delightful Hindu festival celebrated annually as a symbol of renewal and triumph of good over evil, marked by singing, dancing and the tossing of colorful powder. UKW MEDIA brings you special content for Holi during the entire month of March!
More on EntSun News
UKW MEDIA will be featuring short films that center around award winning Indian and Indian-American filmmakers and cast -
JOHN BROTHERS GYM (where The Office meets the gym), produced by and featuring Jerry Mathews and directed by Lydia Folckomer
A SARI FOR PALLAVI (Say Yes to the Dress … or the sari?) produced by and featuring Sunita Deshpande #luckysunita
ALL I WANT (a delightfully sweet and funny story about a street urchin in search of a mango), written and directed by Venika Mitra
SITA SINGS THE BLUES (written and directed by Nina Paley) (He cheated on her and What …?!): Parallel stories of the Ramayana and a couple from San Francisco, in a unique, stylized animation.
And also in March -
'FROM FAT LOLLI TO 6 PACK LOLLI: THE ULTIMATE TRANSFORMATION STORY'.
Follow Anthony Lolli as he determines to get healthy for the sake of his family. He goes from wanting to lose a few (hundred) pounds, to hot body - with the support of his wife, family and friends. Find out how he does it!
More on EntSun News
Find
UKW MEDIA
in the Channel Store on ROKU and on Vizio Smart TVs, bringing the best in family entertainment, curated from around the world, to global audiences with an urban sensibility.
UKW MEDIA
is a joint venture of Homewood Media Inc. and Trigold Entertainment Inc. UKW Media is the fulfillment of the founders' dream to create channels that appeal to multicultural urban audiences.
Follow us on Instagram / Facebook / YouTube / Twitter: @ukwmedia
http://www.ukwmedia.com
Source: UKW Media
---
0 Comments