EntSun News/10853323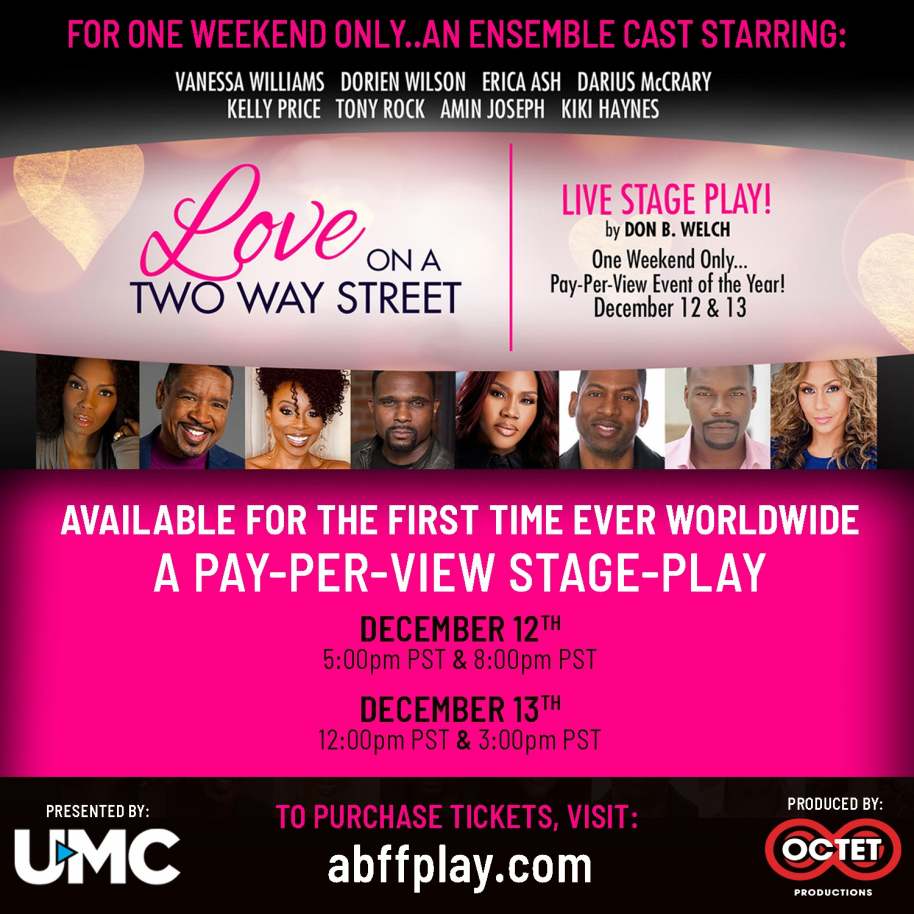 UMC presents: "Love On A Two Way Street" First Ever LIVE Stage Play; Pay-Per-View Event!
LOS ANGELES
-
EntSun
-- Adjusting to life during a pandemic has been challenging for all. Theaters are not open for LIVE events, however thanks to the American Black Film Festival (ABFF), who has developed the ABFFplay App, it is now possible to bring the Theater to You! On the weekend of December 12
th
-13
th
, audiences will have the exclusive opportunity to enjoy a LIVE Stage Play from the comfort of home. UMC presents OCTET Productions' newest stage play, "Love On A Two Way Street"; Written and Directed by Donald B. Welch, featuring an All-star cast which includes: Vanessa Williams, Erica Ash, Dorien Wilson, Tony Rock, Amin Joseph, Darius McCrary, Kiki Haynes, Jonnelle Allen and special guest star, R&B Superstar Kelly Price.
"Love On A Two Way Street" is a layered story about the McKenzie family and the challenging life obstacles they face in their daily lives. "James McKenzie" (Dorien Wilson) is nearing retirement and is unsure of what that means for him while their two adult children "Regina" (Erica Ash) and "Zavier" (Tony Rock) are experiencing life changing obstacles that they must navigate without the interference of their helicopter mother, "Gloria McKenzie" (Vanessa Williams). It is a story that will make you laugh, yell and cry. You will meet entertaining characters that you will either love or love to hate. Either way, you will experience the exciting emotional roller coaster this story takes you on.
More on EntSun News
Visit:
www.ABFFplay.com
or download the App to secure your tickets to this First Time ever Pay-Per-View stage play event. You can choose an affordable night at home for the Entire family. Tickets start at $24.99. Viewers may also select a One of a Kind Experience $49.99 VIP Package, which includes an Annual Subscription to UMC (the first and largest streaming service dedicated to Black TV and Film), and a Virtual
Meet & Greet with the Cast on Sunday, December 13 at 3pm PST
.
Showtimes are as follows: 12/12 - 5p and 8p PST; then on 12/13 - 12p PST and *12/13 - 3p PST (Cast Meet & Greet for VIPs). Viewers of the stage play are encouraged to get social with us using the social media platform of choice tagging @octetproductions @abffplay @watchumc and using the hashtag: #loveonatwowaystreet
To stay informed on all OCTET projects, visit
www.octetproductions.com
The lead media Point of Contact for this advisory is Ms. Thomasina Perkins-Washington. She can be reached via phone at: 202.791.0980 or via email at:
Thomasina@capitolpublicrelations.com
with
Media Cast/Director Interview Inquiries
and/or to provide you with any additional information.
More on EntSun NewsAbout OCTET Productions:
Founded in 2015, OCTET Productions is a full-service production company based in the District of Columbia. From developing a concept to delivering a finished project, OCTET is dedicated to paying great attention to detail and providing the best in film production. With over 30 years of experience in the film and entertainment industries, our team is committed to providing outstanding film projects that optimize the overall viewing experience. Our "OCTET Pretty" projects give OCTET the distinct advantage in setting the standard in the world of independent films.
Capitol Public Relations LLC is a Public Relations firm based in Washington, D.C. Metro Area servicing corporate, entertainment and sports professionals nationwide and internationally www.capitolpublicrelations.com
Source: Capitol Public Relations LLC
---
0 Comments