EntSun News/10870842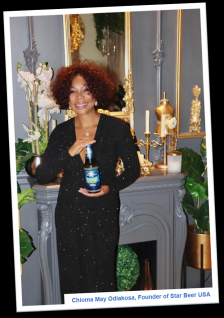 The month of March celebrates women and Star Beer is proud to call its owner, Chioma May Odiakosa, as the only black woman in America to own a beer business.
BEVERLY HILLS, Calif.
-
EntSun
-- Star Beer USA (
www.starbeerusa.com
), is proud to announce its owner, Chioma May Odiakosa as being the only black woman in America to own a beer business. Nigeria's finest, cold-filtered brew is not only Africa's number one lager, but cherishes and appreciates the wonderful work its founders have created. We take the month of March to give our woman-owned business the shine it deserves and to recognize the success of our also black-owned business. Odiakosa expresses, "As my father's daughter, family and community come first. He taught me hard work, kindness, to never stop dreaming, and to always look for the light in every situation. I want to inspire and encourage all to reach for the sky." We want to thank May for her positive and enthusiastic attitude in the business world and to take not just the month of March, but every month to truly recognize her fantastic work. Star Beer USA has blossomed and expanded to select stores, bars, and restaurants in Southern and Northern California. Check out
Star Beer Locator
to see where you can locate Star Beer today!
More on EntSun News
Not only is Star Beer both a woman and black-owned business, but the founders would like to create a foundation beginning in May 2021 to donate a portion of their profits to cervical cancer research and awareness, as well as providing 1,000 woman with free pap-smears in Nigeria, in honor of Chioma May Odiakosa's sister, Ngozi Okaka. Star Beer is purpose-driven, making their business not only about the beer, but about the thoughtful meaning behind it and giving women the care they deserve.
Star Beer is immensely proud of its Nigerian born and raised owner, Chioma May Odiakosa. We are proud of the expansion of the product beyond its home and are excited to continue expanding even beyond the west coast in America! We appreciate the passionate community and work ethic that has been put forth and we can't wait to see what the future holds with both our black and woman-owned business.
If you are currently not located in Northern or Southern California and are craving a crisp, bubbly lager right about now, visit our shipping link here
Star Beer 6-Pack Shipping To Your Home
to get your very own six pack delivered right to your door!
More on EntSun News
Visit Star Beer's
Instagram
,
Facebook
, and
Twitter
and give us a follow to experience our trendy and growing journey. Share and post your Star Lager Beer and tag us to be featured on our accounts!
About Star Beer USA
(
www.starbeerusa.com
)
Star was introduced in the Nigerian market on 2nd June 1949, becoming the first indigenous brand in a beer market dominated exclusively by imported brands. Star is the beer indisputably associated with brightness, fun, and high quality in taste. A world-class brand brewed by one of Nigeria's model corporate organizations, Nigerian Breweries Plc (NB Plc). Through a special cold filtration process Star is perfectly brewed for that superior taste. Star lager is a well known brand in the Nigerian music industry with high class performers such as JJC who has even collaborated with Star Lager.
Source: Boulder SEO Marketing
---
0 Comments