EntSun News/10685305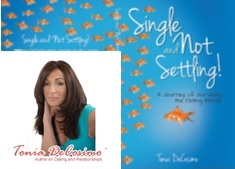 "Surviving the dating world in the 21st century has become the biggest challenge. No woman wants to settle nor should she." - Tonia DeCosimo
NEW YORK
-
April 3, 2017
-
EntSun
--
Tonia DeCosimo
's new book, a combination memoir and dating advisory manual, is witty, breezy, and informative. The book, now available in print and electronic format on Amazon.com,
Barnes and Noble.com
and other book buying sites, is a narrative from the author about how she managed to survive the dangerous shoals of dating and find her own safe harbor in her forties.
For Tonia DeCosimo, columnist for online dating giant
Zoosk
,
Single and Not Settling: A Journey of Surviving the Dating World
was somewhere in the middle. She spent a great deal of time searching for love, and in the interim dated some colorful, unique, and completely unforgettable characters. Her tips are spot on for anyone – woman or man – who wants to find the right person with whom to spend their lives.
More on EntSun News
An interview with Tonia, as well as book reviews, has appeared in Thrive Global, Your Tango, and the Huffington Post. She is also a columnist for one of the largest online dating sites in the country, Zoosk.com, where she gives pertinent, useful advice to single people over 40.
Tonia will attend various radio interviews and book signings over the next several weeks.
To schedule an interview with Tonia, please contact her at tdc810@hotmail.com.
Upcoming Events:
RADIO INTERVIEWS
Monday, April 17th
Frankie Boyler Lifestyle Show
11:00 AM to 11:17 AM EST
The Neale Steele Show
WXGM Radio (VA)
8:35 AM to 9:00 AM EST
Host Anne Holiday
WESB AM Radio (PA)
10:00 AM to 10:15 AM EST
Host Mike Schikman
WSVA Radio (DC)
3:15 PM to 3:30 PM EST
Tuesday, April 18
Dr. David McMillian
KEEL AM 710 Radio (LA)
8:00 AM to 9:00 AM EST
Host Bob Schmidt
WLFM Radio (WI)
9:35 AM to 10:00 AM EST
Mary Jane Popp Show
KAHI Radio (CA)
4:30 PM to 5:00 PM EST
Wednesday, April 19
Chuck Kramer - The Morning Show
WEAG Radio (FL)
9:20 AM to 9:28 AM EST
Steve Hexom Show
KBUR Radio(IA)
9:35 AM to 10:00 AM EST
John Chalfant - The Morning News
More on EntSun News
WLTP News Talk (OH)
10:15 AM to 10:30 AM EST
Thursday, April 20
Diane Jones Show
KLPW Radio (MO)
9:15 AM to 9:30 AM EST
Host Bob Schmidt
WLFM Radio (WI)
9:35 AM to 10:00 AM EST
Mary Jane Popp Show
KAHI Radio (CA)
4:30 PM to 5:00 PM EST
BOOK SIGNINGS
Thursday, April 27
Book Revue
313 New York Avenue, Huntington, NY 11743
7:00 PM EST
http://bookrevue.com/ToniaDeCosimo.htm
Tuesday, May 16
Turn of the Corkscrew Books and Wine
110 N. Park Ave, Rockville Centre, NY 11510
7:00 PM EST
Source: Tonia De Cosimo
---
0 Comments