EntSun News/10769749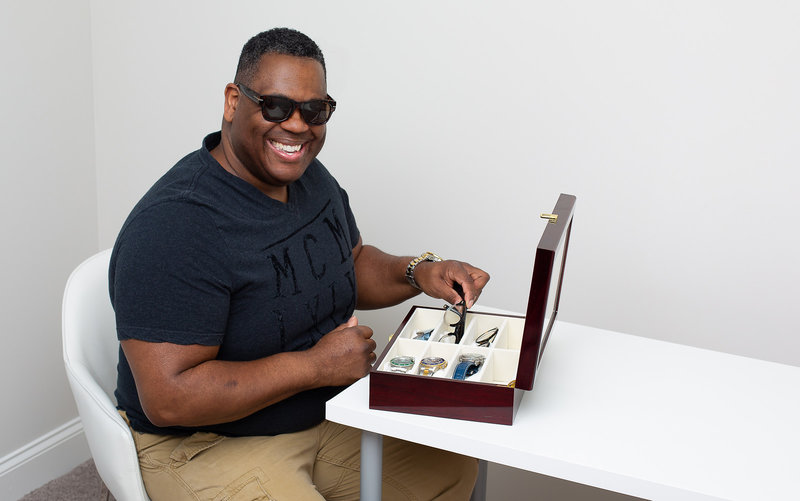 MARIETTA, Ga.
-
March 21, 2019
-
EntSun
-- Roomganize, a Georgia based company, whose self-stated mission is to put the fun into organizing, recently released a luxury wooden sunglasses organizer that holds eight pairs of sunnies for anyone on a budget. Classy. Inexpensive.
There are lots of people out there who collect sunglasses just like Imelda Marcos used to collect shoes. The options for storing a lot of shades are few: a bunch of single sunglasses cases and finding some place to store those cases, a multiple-pair sunglasses organizer box or just strewing the sunglasses about in the house and car and trying to find that one pair that matches the outfit of the day.
The second option in the above paragraph seems to be the most practical, but then there is the visual aspect one has to contend with. Most sunglass organizers that hold several pairs of specs are made of faux leather and look really cheap. Nice wooden ones found in good department stores are too expensive for most people.
Mydomaine.com, in an article on their site (
https://www.mydomaine.com/inexpensive-decorating-ideas-luxury-look-for-less
) gives some hints on making a place look glamorous on a shoe string.
More on EntSun News
Roomganize's sunglasses organizer and jewelry case is an item that could easily have been listed there. It is made of solid dark wood and has a felt interior. It easily holds eight sunglasses. And for a fraction of the price tag of designer sunglasses organizers.
Samuel Whitfield, a spokesperson for the company, says: "We at Roomganize try to source products that are unique, useful and affordable. Our customers value us as evidenced by the glowing reviews we get. One person wrote, 'Looks very high end and fits my Oakley collection perfectly. Would highly recommend.'"
Roomganize has designed products to make home life more organized and free of clutter. Those interested in learning more about the Roomganize line can go to the company's official website (www.roomganize.com) or their Amazon storefront (www.amazon.com/stores/page/0219314F-2480-4243-AA4B-0FC07A03B875).
Source: Roomganize
---
0 Comments