EntSun News/10849643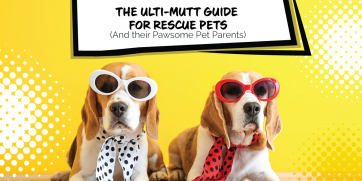 New Online Platform Offers Advice, Guides, Insights, Products and Listing of Cats & Dogs in Need of Forever Homes
NEW YORK
-
EntSun
-- You can't resist the eyes as she looks at you from inside the cage. You know you're taking her home, but for first time pet owners, that's about all you know.
Enter
Rescue Pop
, a new platform by entrepreneur and pet lover Christi Scofield that provides
an A-Z explanation of everything you need to know when adopting a cat or dog
.
Rescue Pop
is a smart, one-stop shopping and learning experience that includes guides, recommendations, need-to-know information,
interesting facts about different breeds
, an online shop that donates a portion of profits to shelters and even a listing of pets up for adoption. The site features a lively pop-art aesthetic with pithy talk bubbles, meant to evoke the joy a rescue pet can bring into your life.
More on EntSun News"Adopting a rescue should be an informed decision,"
said Scofield. "The goal of Rescue Pop is to give people practical and helpful advice when bringing a new pet home. We also want to make sure it's the right match. At Rescue Pop, people can learn about breeds, pet habits,
fun products
and relevant topics new parents often ask about. I wanted Rescue Pop to be an interactive experience for people interested in rescues."
Among its many features are helpful guides for new pet parents. From choosing the right cat or dog to preparing your home and finding the right veterinarian, the platform gives new owners
a crash course in bringing a rescue home
. Additionally, Rescue Pop includes a
"Rescue Pop Shop"
that offers stylish T-shirts with messages about rescuing ("Adopt Don't Shop"), and will soon sell a curated selection of pet accessories.
Rescue Pop donates 10% of profits to shelters in need.More on EntSun News
Visitors can also
find pets up for adoption
on Rescue Pop. The platform features a search function that connects to a robust list of rescues. Users can search for pets by zip code and also choose sex, color, hair and age.
"Our site gives soon-to-be and new pet owners everything they need to know about the rescue experience," says Scofield. "It is
informative, fun, engaging
and puts its money where its bark (or meow!) is."
Rescue Pop founder
Christi Scofield
is a serial entrepreneur who has launched several consumer brands through her company, Icebreaker Entertainment, including the latest, Rescue Pop. A graduate from Virginia Wesleyan University, she earned an MBA from Florida State University. Originally from Treasure Island, FL, she relocated in 2000 to New York City, where she lives with her husband, Ted, and rescue pup Pamplemousse Vanderbilt Scofield.
Source: Icebreaker Entertainment, LLC
---
0 Comments