EntSun News/10757537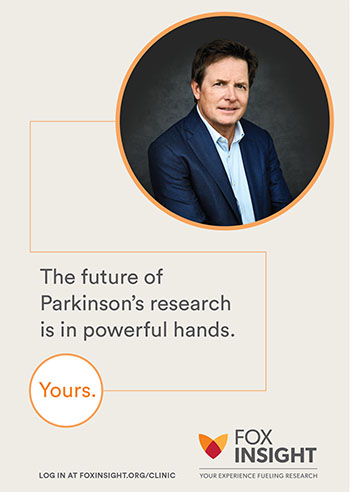 First Choice Neurology to participate in Parkinson's disease study from The Michael J. Fox Foundation.
MIAMI
-
Nov. 6, 2018
-
EntSun
-- A new online
Parkinson's disease study
is available from The Michael J. Fox Foundation by Fox Insight. Fox Insight is an online clinical study where people with
Parkinson's disease
and their loved ones share information that could transform the search for better treatments. By joining Fox Insight you can help shape the future of Parkinson's research — but it's going to take all of us, working together.
No one understands Parkinson's better than those living with it every day. By working together, we can help shape the future of research. Fox Insight easily collects self-reported data about health experiences from those with and without Parkinson's in a number of ways. Eligible individuals can help researchers gain a holistic picture of the disease by participating in a genetic sub-study.
More on EntSun NewsFox Insight Parkinson's Disease Study
Fox Insight is an online clinical study that empowers patients, control volunteers and researchers to work together toward Parkinson's disease breakthroughs.
The flexible study design allows participants to contribute data in a variety of ways:
Routine health-related surveys
Optional, add-on surveys and sub-studies including genetic testing
Future remote data collection (e.g. wearables, keyboard tapping, biologic samples)
Fox Insight Parkinson's Disease Participants
Fox Insight participants complete virtual study visits every 3 months, and data they contribute enables high-impact scientific collaboration toward patient-relevant outcomes.
Through online study visits (45 to 60 minutes), participants fill out a series of questionnaires to provide critical insights on:
Symptoms
Physical function
Medications
Quality of life
Unmet Needs
Healthcare preferences
More on EntSun News
Additional research opportunities such as add-on questionnaires and sub-studies will be integrated into the Fox Insight platform.
Fox Insight is currently enrolling anyone who:
Is 18 years old or older
Has a Parkinson's diagnosis
Is able to complete health questionnaires in English
Has access to the internet
Over 22,000 participants are already contributing information about their experience with Parkinson's disease (PD).
By participating in genetics research, Parkinson's disease patients can help speed the development process toward personalized therapies that may slow or stop the disease. For more information about the study, visit First Choice Neurology blog at
https://www.fcneurology.net/parkinsons-disease-study-from-the-michael-j-fox-foundation/
Source: First Choice Neurology
---
0 Comments