EntSun News/10999850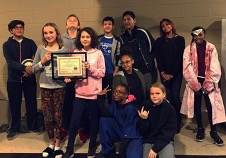 The Chase Park After School Teen Program has reanimated their charity haunted house, The Park After Dark. After being closed for 3 years do to covid, the once famous haunted house is now back, and better than ever!
CHICAGO
-
EntSun
-- Do you have what it takes to face your fears and survive the night? If so, you are invited to join the Chase Park After School Teen Program for a frightful fundraiser this October. The Park After Dark is a charity event to raises money for the after-school teen program. An organization dedicated to providing Chicago's youth with a creative and safe environment too build friendships and learn life skills. Every year, we transform the old theater into a brand-new haunted house, never repeating the same theme twice creating a truly unique experience. After being closed due too Covid for the last 3 years, we are coming back with a scream presenting our most chilling attraction to date, Outbreak, a zombie survival adventure.
More on EntSun News
The haunted house is open October 20,21,22,27,28,29, Friday-Saturday from 7 p.m. to 11 and Sundays from 6-9 p.m. Admission is only $12 per person, all tickets must be purchased in advance on our website. The event is sponsored by local businesses and volunteers who have donated their time, money, and materials to create a horrifying experience for a good cause.
"As one of the last remaining community haunted houses in Chicago we feel an obligation to bring this tradition back, and keep it alive for years to come," said Marcus Bales, the creative director of The Park After Dark. "We hope that people will come out and support us, it means the world to these kids and our community."
The charity haunted house is suitable for ages 13 and up. The event is not recommended for people with heart conditions, epilepsy, are pregnant or have extreme phobias.
For more information visit:
www.chaseparkafterdark.com
Source: The Park After Dark
---
0 Comments