EntSun News/10879647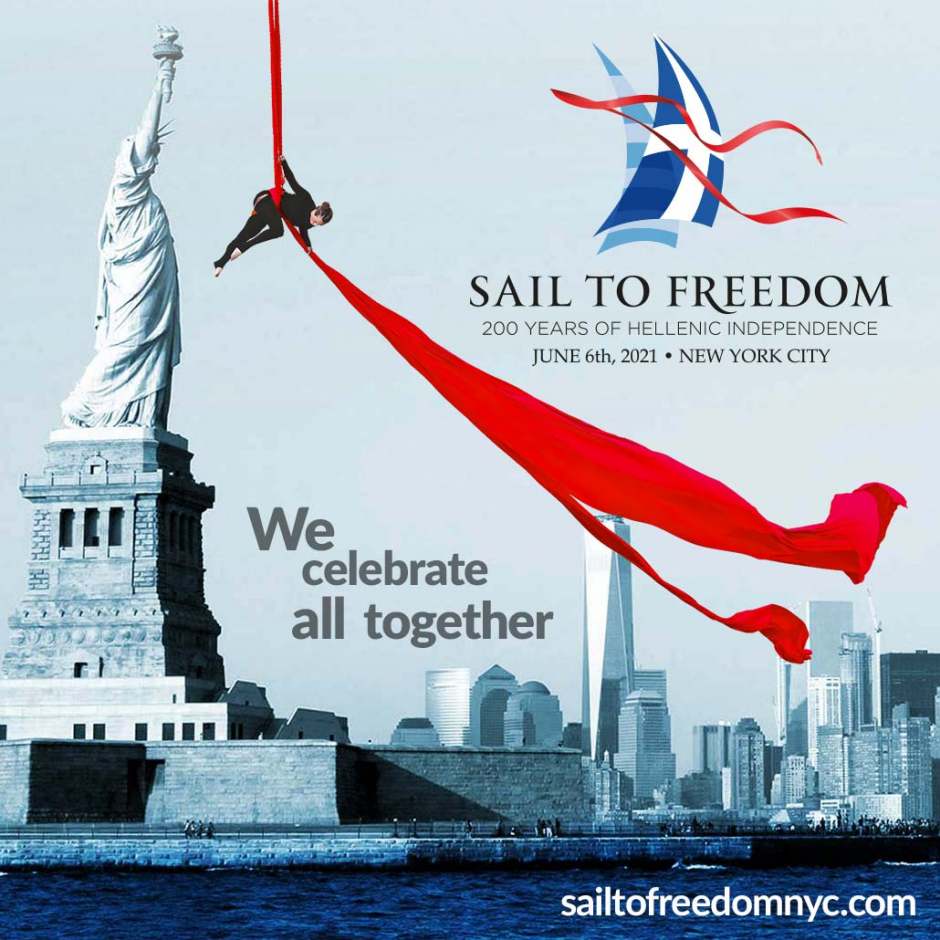 Announcing the historic event, "Sail to Freedom NYC", a global celebration
scheduled for June 6, 2021 at 2:30pm EST (9:30pm EEST) in New York Harbor commemorating the Bicentennial celebration of Greek Independence (1821-2021).
NEW YORK
-
EntSun
-- The event will feature a sailing regatta parade of vessels leaving from Chelsea Piers 61 and 62, NYC, moving toward New York City's famous landmark and international symbol of freedom, the Statue of Liberty, whose official name is, "Liberty Enlightening the World." The regatta of vessels will be followed by professional drones recording and live-streaming to audiences around the world. Upon the arrival at the Statue of Liberty there will be a symbolic performance off of the main sailing vessel by the internationally acclaimed aerial dancer, Ms. Katerina Soldatou, whose extreme aerial performance, while suspended in air from the mast of the ship, symbolizes the courage of the Greeks to dive into the void and defy their Ottoman oppressors and commence their fight for freedom in 1821.
"Sail to Freedom NYC" will also be accompanied and attended by participants on chartered or private vessels in parade formation. The unprecedented nature of this historic moment -- a national Bicentennial celebration in a time of worldwide pandemic – inspired the event's organizers to create an exciting and memorable celebration of the spirit of Greek Independence and ideals in spite of the many limitations of international travel and social distancing. This sailing parade celebration will be remembered for years to come — and the organizers' hope is that it will inspire similar events worldwide for Hellenes, Philhellenes and all those who support and value the Hellenic ideals of
More on EntSun News
freedom, independence and democracy. "Sail to Freedom NYC" is organized by a team of international professionals with the support of the Hellenic organizations and diaspora community of the greater New York City area. The distinguished committee of Greek and Greek-American leadership supporting the event includes:
John A. Catsimatidis Honorary Chairman
Dr. Panagiota Andreopoulou, Vice President
World Hellenic Biomedical Association – NYC
Nicholas Bardis, President Ionian Cultural Federation NYC
Markos L. Drakotos, Esq. President
Hellenic-American Chamber of Commerce
Costis J. Frangoulis, President
Board of Governors – International Propeller Club of U.S.
Andrew Heretakis, President Sons of Pericles New Renaissance Chapter # 5, Manhattan, NYC
Demetris Kafchitsas, President Pan-Gregorian Enterprises of Metro NY & LI
Louis Katsos AHEPA District 6 Governor & President of EMBCA
Theodore P. Klingos, President AHEPA Delphi Chapter # 25 , Manhattan, NYC
Dr. Panagiotis Manolas, President
Hellenic Medical Society of New York
Elsa Jonsson-Matsikoudis, President
Daughters of Penelope, Evryklea Chapter # 36, Manhattan, NYC
Paul Pavlakos, Esq. President Greece 200
More on EntSun News
Dr. Marinos Petratos, Chairman, Board of Governors
AHEPA Delphi Chapter # 25 , Manhattan, NYC
Admiral Vassilis Politis Member of Board of Directors of Yacht Club Of Hellas
Dr. Sotirios G. Stergiopoulos, Vice President AHEPA Delphi Chapter # 25 , Manhattan, NYC
Michael Tiliakos, President Hellenic Lawyers Association of New York
George Zapantis, Vice President Hellenic Lawyers Association of New York
To learn more about this event, watch congratulatory messages from Greek government
officials, discover ways to participate, and read about the Bicentennial of Greek Independence, visit
https://www.sailtofreedomnyc.com/
Source: Global Alive LLC
---
0 Comments