EntSun News/10908203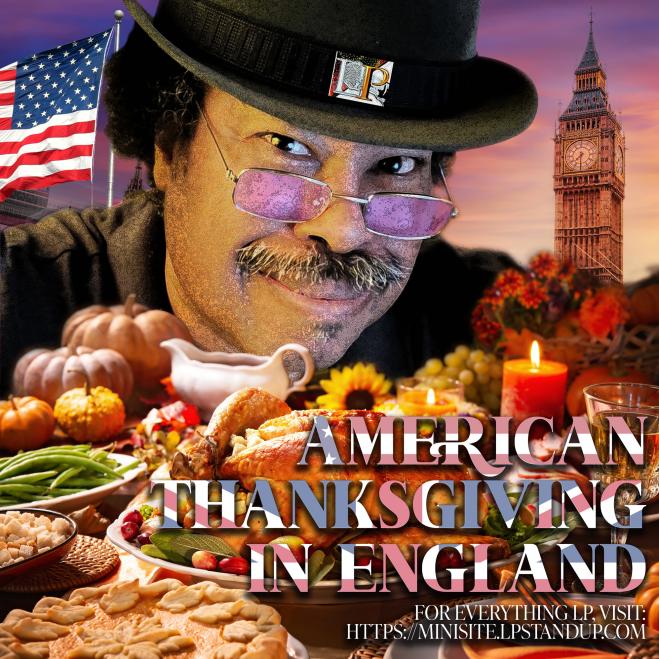 Stand-up Comedian 'LP' spent decades working IT in San Diego before exploring the local comedy scene in 2018. In 2020, just as he was becoming adept at navigating the comedy landscape and delighting crowds, the COVID-19 pandemic shut down the clubs and the 62-year-old was forced to stop doing stand-up. But people need to laugh. Now, more than ever. So, LP records comedy content to amuse, engage, enlighten, and delight an ever-widening audience. "American Thanksgiving In England" is such a track.
SAN DIEGO
-
EntSun
-- Ah, Thanksgiving. That wonderful time of year and start of the Holiday Season where families get together, give thanks for all they have, over imbibe food and drink to a point that would even make Dionysians envious and then dutifully sally forth the next day in a somewhat obsessive/compulsive attempt to... What else? Get more stuff!
Enter into this already target-rich environment, California Stand-up Comic and comedy concept recording artist, LP. And although, our first impulse is to question his sanity. It turns out his perspective and insights on the subject are both unique and hilarious.
More on EntSun News
"American Thanksgiving In England" is yet another innovative track created and produced by funnyman LP that promises to deliver that unique, playful, funny LP perspective many have come to enjoy. Although primarily styled as a public radio concept and focused on England (which doesn't celebrate a Thanksgiving like in America), one listen and you'll soon be laughing at what translates into a decidedly different approach to preparing your bird.
LP's "American Thanksgiving In England" might be just the thing to liven up your holiday and start a new Thanksgiving, turkey day tradition of laughter in your household.
You can listen to and/or purchase "LP's American Thanksgiving in England" here:
https://lpstandup.bandcamp.com/track/american-thanksgiving-in-england
For the lastest LP news, information and merchandise, etc... Visit:
https://minisite.lpstandup.com
Thankfully, no bird or turkey, single or plural was harmed in the making of this track. ;)
To initiate an interview request with LP, please email: admin@lpstandup.com
Source: ProSynServ, Inc.
---
0 Comments