EntSun News/10977046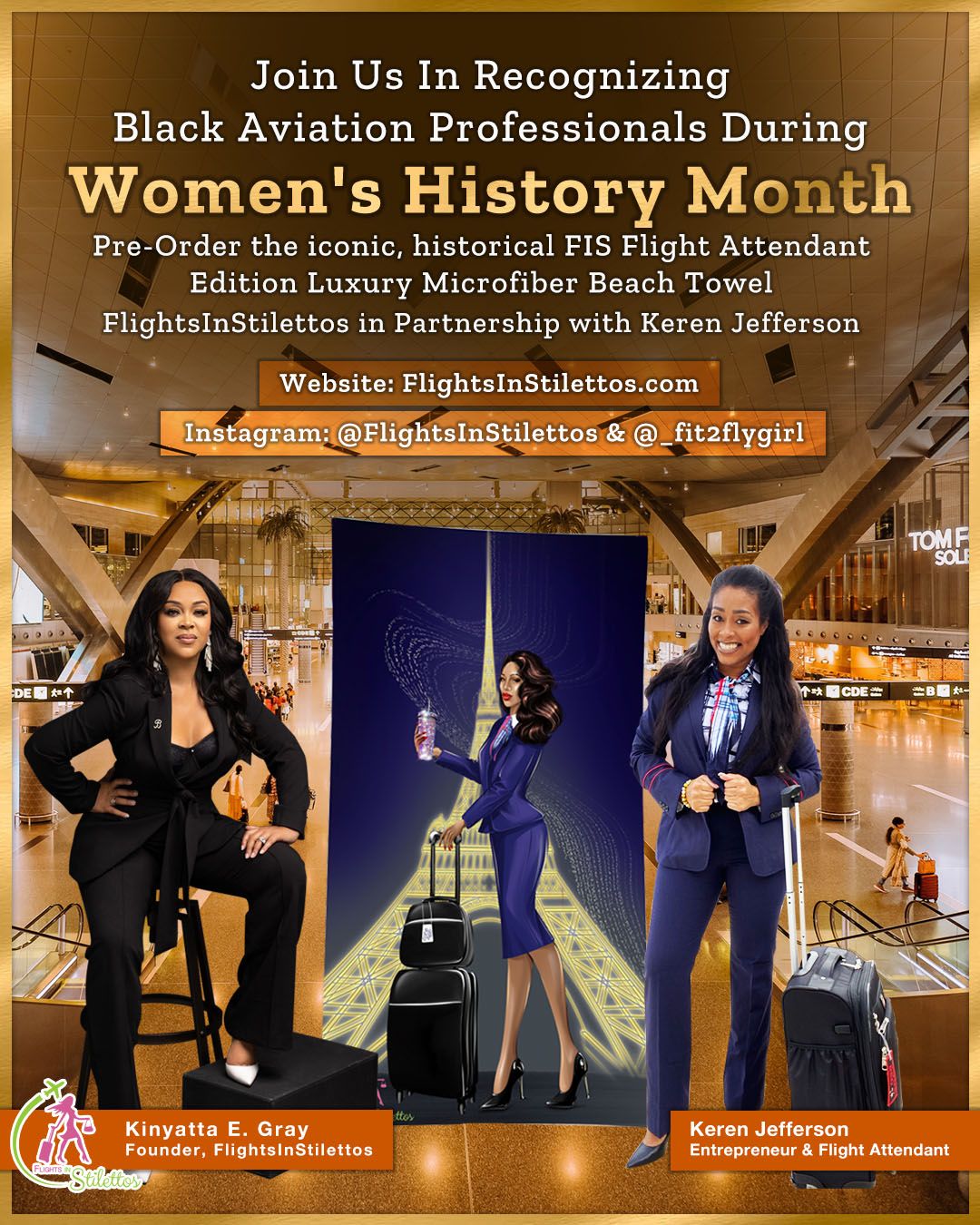 FlightsInStilettos Founder Kinyatta E. Gray Launches A Flight Attendant Edition Luxury Microfiber Beach Towel for Women's History Month
SILVER SPRING, Md.
-
EntSun
-- Kinyatta E. Gray is pleased to announce a joint effort with Keren Jefferson, a U.S. Flight Attendant, on the first commemorative FlightsInStilettos Flight Attendant Edition Luxury Beach Towel.
This beach towel is groundbreaking and is a step towards uniquely recognizing an underrepresented population in aviation.
The first Black flight attendant beach towel is a reminder of the progress made in the fight for equality for Black women aviation professionals. Additionally, it serves as a symbol of hope and progress for those who are still struggling for equal recognition.
A flight attendant created the Flight Attendant Edition Luxury beach towel with flight attendants in mind because it represents who they are and what they do.
Kinyatta E. Gray is the Founder & CEO of FlightsInStilettos® and a bestselling author from Washington, D.C. In 2018, Gray identified a hole in the beach towel market after she could not find a beach towel to fit her aesthetics and travel style. To solve this problem, Gray designed the award-winning
Glam Girl Beach Towels –
luxury, microfiber beach towels with captivating illustrations of women (of all shades) at the beach.
More on EntSun News
Keren Jefferson's commitment to recognizing the accomplishments of Black flight attendants led to a partnership with Gray to design commemorative luxury beach towels for flight attendants worldwide.
Offered initially online only,
FlightsInStilettos Beach Towels
have been spotted across the globe. From Spain to Dubai to Egypt and Thailand, these gorgeous new towels are perfect for the women on the go who want to feel beautiful and included!
The rising brand has been featured in various national and international media outlets such as TravelNoire, Hollywood Unlocked, Sheen Magazine, Authority Magazine, Yahoo News, VoyageLA, Fashion Bomb Daily,
BlackNews.com
, and Urban Magazine, to name a few. In 2023, FlightsInStilettos was a featured vendor at D.C. Fashion Week in Washington, DC.
In 2022, Kinyatta won the
Best Luxury Inclusive Beach Towel Brand
award (in the Perfect Gift Award category) by LUXlife Magazine in the United Kingdom. Gray was also awarded
Best Trailblazing Woman Leader of the Year 2022
by The CIO Today.
More on EntSun News
Several celebrities and significant global black travel influencers have also been spotted with FlightsInStilettos beach towels, such as Martinique "Marty San Diego" Lewis, Creator of ABC Travel Greenbook.
"I am delighted to bring joy and inclusivity to Flight Attendants worldwide and to specifically honor and recognize Black Flight Attendants on FlightsInStilettos Glam Girl Beach Towels."

~Kinyatta E. Gray
Find the
FlightsInStilettos Flight Attendant Beach Towels
online at
https://flightsinstilettos.com!
Media Contact:
FlightsInStilettos
info@flightsinstilettos.com
Source: FlightsInStilettos, LLC
---
0 Comments