EntSun News/10831857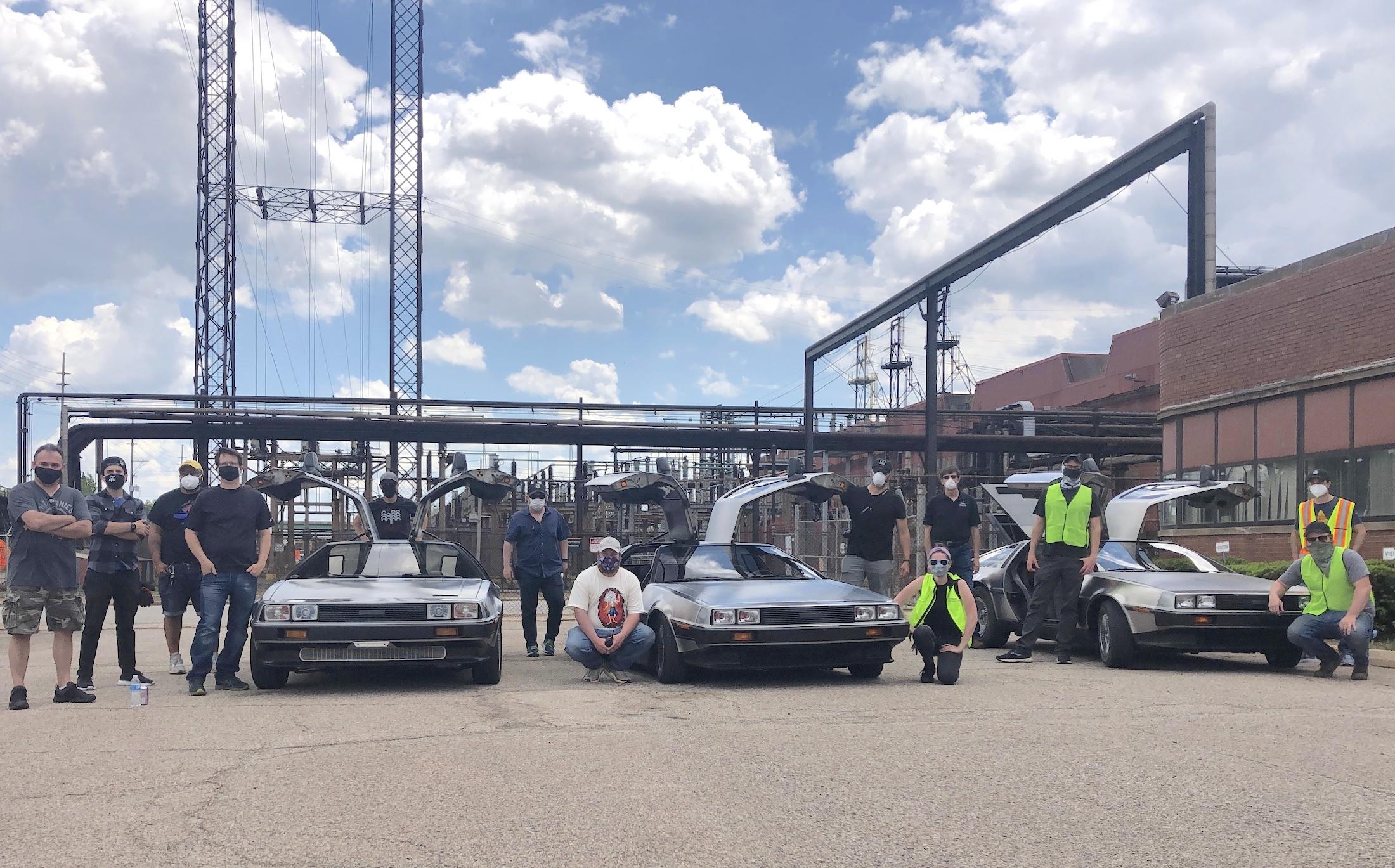 Explore among the first commercial production companies in the country to safely & nimbly produce a Covid-era live action shoot, allowing new content to be released for a national craft beer brand.
CHICAGO
-
EntSun
-- Explore, a commercial + content production company with offices in Chicago and Indiana, recently produced a shoot depicting the story of three DeLorean vehicles delivering a retro hazy beer. The premise for the content was that people in the city are restless. Stay at home orders are necessary, but have tapped them both physically and mentally, and somebody needs to send inject a dose of positivity straight from the 1980's. Enter an approaching fleet of DeLorean automobiles spreading across the map, delivering hazy IPAs to save the day.
https://vimeo.com/440729019
Explore's client is Boulder based agency Fact & Fiction, and ECD Rob Lewis conceptualized the creative and also managed the animation department. Helmed by Explore Director Jeremy Pinckert, their challenge was to achieve the creative, but at the same time Illinois was still under a stay at home order, and the need called to specifically shoot a fleet of DeLoreans driving to Chicago.
In late May, Explore developed three different strategies for shooting the spot. One included waiting until what was at that point a TBD date for the city of Chicago to lift restrictions. The second involved combining some form of shooting in the suburbs and renting the unfinished Amstutz Expressway where movies like "Batman Begins" had been shot. The final option was shooting in Indiana, where the stay at home order had been lifted and shooting on location was technically feasible.
More on EntSun News
The look the creatives and director were going for was a post-apocalyptic landscape with warehouse-lined streets, a big industrial skyline, and a gritty, dusty, rusty atmosphere. The Calumet - East Chicago area of Indiana, once known for steel mills and smokestacks and now populated by natural gas & refinery companies, turned out to be a perfect fit.
The production team had to focus on the plan to shoot in this Covid-19 atmosphere, a month before most productions were shooting and standards for live-action production had been put into place. Exceeding Indiana's standards for the number of people on a work site was their first goal, but due to the nature of production where sets are constantly fluid, people are moving around, and locations are changing, Explore also implemented the following extra steps to ensure a safe and compliant shoot:
Crew size was limited to 10 people. Creatives & client were not traveling to the shoot, so Explore used a Blackmagic I/O device to deliver an image from the ARRI Alexa to a Zoom conference call for video village. Shooting outdoors provided fresh air and the space to build camera, equipment, and driving vehicles. The DeLorean vehicles were driven by their actual owners, freeing up the need for HMUA or wardrobe. Craft services and catering were adapted and given serious considerations. Orders were taken before and one well-disinfected PA created crafty bags for each person the night before coming to set. Breakfast & lunch were delivered in individually-wrapped take out bags, and crew used their cars to isolate and eat safely. Each crew member brought their own PPE, and Explore provided backup. However, after everything learned in the two months since this production, all PPE will be standard and provided by the production company for future productions.
More on EntSun News
Embarking on a Covid commercial production can be a little scary, but as everyone moves forward for the near future, we'll all need to find solutions to successfully produce creative briefs. This may take a little more nimbleness, and a little less comfort for those accustomed, but for production companies like Explore, these productions fit right into their wheelhouse.
ABOUT EXPLORE
Explore is a commercial production company creating award-winning projects since 2003. With offices in Chicago and Indiana, Explore has grown into a boutique production house with directors and representation in all major markets. By building their brand behind the construct that every project, no matter the budget, deserves the very best, they've won over 70 professional awards for their productions. They have also are Emmy-winners for longer-form broadcast storytelling. In addition to production, they are also experienced post producers, editing projects from national broadcast commercials to OLVs, cutdowns, and motion graphic pieces. For more information or to discuss production needs with a sales rep or producer, visit:
https://www.explore-media.com/contact
ABOUT DIRECTOR JEREMY PINCKERT
With a focus on people, products, and visual storytelling, Jeremy has the type of genre-busting versatility so appealing to creative teams. His work is known for eye-catching visuals, well-paced timing, narrative flow, and nuanced performances, whether in directing acting talent or real people. He also is a skilled editor and musician, which informs his approach to projects from treatment to production. Jeremy started his career directing Emmy-winning broadcast storytelling, and since transitioning to the commercial advertising world, he's honed his craft and grown into a seasoned, multi-faceted director - winning more than 70 industry awards along the way.
Source: Explore
---
0 Comments