EntSun News/10779546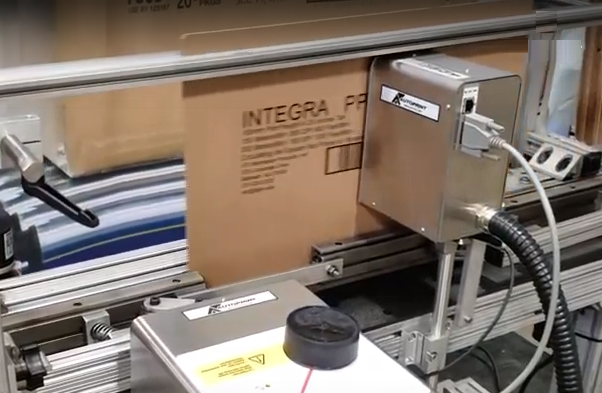 MAHWAH, N.J.
-
EntSun
-- Today,
AT Information Products
(AT INFO) announced the launch of the Markoprint® Integra PP108 World-class Performance Piezo inkjet printer to help packaging operations print hi-res images up to 4.25-inches tall. The system utilizes a Seiko industrial printhead to deliver seamless graphics, barcodes and alphanumeric text.
"Users of high-resolution industrial inkjet coders have lived with a multitude of frustrating issues in order to complete their case coding projects. Now, with the latest print technology from AT INFO, manufacturers and co-packers can reach a new level of operational productivity," said Gary Bach, Regional Sales Manager, AT Information Products. "Today, we are proud to deliver the Markoprint® Integra PP108 Performance Piezo coder as a game-changing solution for the industry."
Pain points and bottlenecks have plagued the hi-res case coding category
To keep packaging lines running and revenues growing, manufacturers need solutions that are flexible, efficient, and cost effective. And this is what AT INFO delivers. Together with Markoprint® Integra PP108, you can:
Avoid long startup times when beginning a shift or changing over the packaging line
Keep up with the speed of production without sacrificing print resolution
Minimize downtime caused by vibration, de-priming and constant maintenance
Eliminate ink leakage caused by low quality, legacy coders using inferior piezo technology
More on EntSun NewsMarkoprint Integra PP108 Performance Piezo coders —the BEST choice
With greater speed, reliability, and versatility, Markoprint® Integra PP108 offers significant benefits that address the pain points associated with many hi-res case coding solutions:
Installation Height - No need to worry about proper ink system placement.  Integra PP108 prints horizontally or vertically down with no change to the ink system placement.
Start Up Time - Integra PP108 starts up in less than one minute.  There's no priming, no heating up, and no purging necessary. 
Production Speed - Integra PP108 keeps up with the speed of production. The system runs 984 FPM at 180x360 DPI, or 492 FPM at 360x360 DPI.
Print Resolution - Integra PP108 has much higher print resolution than other case coding print technologies.  The print quality is completely controllable in the software which yields lower ink costs.
Vibration - Because of the recirculating ink system, vibration does not affect the Integra PP108.  The system is shock resistant and isn't prone to de-prime.
Maintenance - The combination of the recirculating ink system and Seiko print engine makes Integra PP108 extremely robust.  If downtime is a concern, Integra PP108 is the answer.
Where to deploy Markoprint® Integra PP108More on EntSun News
Manufacturers in need of printing hi-res codes up to 4.25-inches tall on corrugate are ideal customers for Integra PP108. Moreover, customers in the business of wine, liquor, fruit or various building materials can benefit too. Integra PP108 also prints impressive GS1 application identifiers including linear and 2D barcodes, and the system thrives in high-speed manufacturing environments up to 1000 FPM.
See Markoprint® Integra PP108 in action
The underlying print technology is a true competitive advantage for Integra PP108. See an overview of how the new industrial Seiko printhead from AT INFO is far superior to the legacy coders that have caused manufacturer discontent for so many years.
https://youtu.be/_OEDnR_xdU0



About AT Information Products
For 40 years, AT Information Products has been offering a comprehensive line of high-performance inkjet printing solutions for package coding applications, backed by extensive industry expertise. By remaining in lock-step with printing and packaging trends, AT Information Products delivers solutions that meet today's requirements for cleanliness, low emissions, ease of use, and general environmental sustainability. The AT Information Products local support teams and certified distributors can help customers install, use, and maintain the printing and packaging systems that best meet their needs. See
www.atip-usa.com
, or call
(201) 529-0202
.
Source: AT INFORMATION PRODUCTS
---
0 Comments