EntSun News/10969713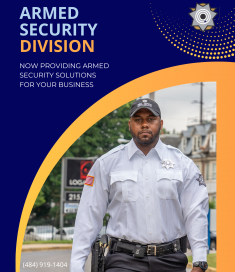 A Pennsylvania company is proud to offer enhanced security services to financial institutions, commercial businesses, residential communities, and more.
POTTSTOWN, Pa.
-
EntSun
--
PHILADELPHIA, PENNSYLVANIA, USA, -
Mil-Spec Safety & Security is a Pennsylvania security company that provides a full range of protective services to clients in residential and commercial settings. Guards provided by the company are specially trained to prevent and react to criminal actions.
The security elements provided by Mil-Spec Safety & Security when they are hired for a job include:
24/7 armed or unarmed guards
Technical Security Systems
Robotics
Entry control
"Our security specialists provide services for construction and highway projects statewide. Services address the safeguarding of construction zones to help protect the site from unwanted visitors, vandalism, and theft—both internal and external. We develop and implement security plans that provide the most effective solutions for your needs,"
says the company of its services and capabilities.
The president of Mil-Spec Safety & Security, David Stockman, brings years of training and military experience to the business. David was a Naval security manager and formally trained military intelligence office. He is also a Utah Bureau of Criminal Investigation certified instructor, a military/government contracted firearms instructor, and a Sworn Pennsylvania Special Deputy.
More on EntSun News
David also brings an extensive educational background in security and problem-solving to his business. He holds a Bachelor of Science, Business Administration from the State University of New York College in Buffalo and trained at the Naval Command and Staff College in National Security & Strategy in Newport. David also holds a Master of Aeronautical Science, Aviation/Aerospace Operations from Embry-Riddle Aeronautical University in Daytona Beach, Florida. David and his team of professionally trained staff provide high-level security and protection to his clients.
Among the security services offered by Mil-Spec Safety & Security are both Armed and Unarmed Security Services. Unarmed Security Services include tasks like; patrolling the premises, investigating disturbances, and monitoring surveillance systems. Armed Security Services from the company enables clients to hire guards who are trained and licensed to carry weapons for handling extreme situations.
The team's Fire Watch services include the dispatch of a trained security officer to monitor a part of or an entire building to the Philadelphia Fire Marshal's Code. They assess the risk potential for fire and help to prevent emergencies of this nature. Mil-Spec Safety & Security also has a mobile security patrol service option which can be effective for deterring criminal activity on larger properties. Guards can perform random inspections from branded vehicles or arrive at specific times to remind the public that the premises are being watched and protected.
More on EntSun News
The company uses real-time reporting software to ensure all guards stay up-to-date on the state of security at the properties under their care. Office Reports is used for electronic reporting and GPS-based tour tracking. Mil-Spec Safety & Security's team is always on standby in a support capacity and can dispatch help as needed. A combination of predictive patrolling, monitoring, and tracking ensures premises remain protected at all times.
Mil-Spec Safety &
Security provides protection to residential and commercial clients in Philadelphia and surrounding areas. To get in touch with Pennsylvania's premier security company, prospective clients can contact David Stockman and his team directly by calling: (484) 919-1404. They can also email inquiries to
info@mil-specsecurity.com
.
Source: Grow My Security Company
---
0 Comments