EntSun News/10805248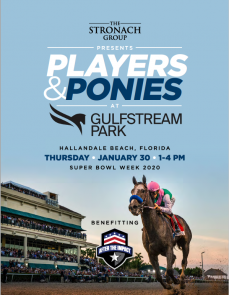 After the Impact (ATI) partners with Gulfstream Park to host "Players and Ponies" a day at the races to benefit military veterans and retired professional athletes, including former NFL players and professional jockeys, on Thursday afternoon January 30, 2020
MIAMI
-
EntSun
-- After The Impact (ATI) facilitates custom treatment plans for military veterans and retired professional athletes with the unseen traumatic injuries from the battlefield of professional field of play. Through the financial support of The Stronach Group, owners of Gulfstream Park, ATI has been able to assist over 20 jockeys in addition to other professional athletes and veterans over the last 3 years. The "Players and Ponies" day at the races will benefit ATI's programs.
Several former NFL players have committed to attend, including Kyle Turley, Matt Stover, Cornelius Bennett, and Ed "Too Tall" Jones to name a few. Food, Beverages and extra games of chance while the horses race, will promise a fun diversion from the usual festivities surrounding the big game in Miami.
More on EntSun News
"We have participated in other major events Super Bowl week over the years, but with the game being in Gulfstream's backyard, they graciously offered to host a fundraiser for us. Our Jockey Program wouldn't be possible without the gracious support of The Stronach Group and now with this event, we hope to raise funds to continue with all of our programs," says Executive Director, Tamara Alan.
Terry Meyocks, President of The Jockey's Guild, says, "ATI has been an absolute Godsend. The care they have provided our jockeys has truly saved lives and provided hope where often times it seemed that there was none. ATI and The Stronach Group have made a significant change in jockey wellbeing."
Individual tickets are $150 and include food, beverages, gaming and an opportunity to rub elbows with some of the greats of pro football. Sponsorships are also still available. Tickets can be purchased here:
https://www.eventbrite.com/e/players-and-ponies-flamingo-room-tickets-85184961513
More on EntSun News
For more information:
Contact
Tamara@AfterTheImpact.org
(855) 955-ATIF (2843)
///
About After The Impact (ATI)
After The Impact (ATI) is a 501c3 non-profit, charitable organization that facilitates custom treatment plans for veterans and athletes with unseen traumatic injuries from the battlefield or field of play. Through our vetted resources, ATIF provides a clear path to healing for these individuals and their families. Bringing these communities together, our solutions remove or reduce symptoms, help mend relationships and provide a renewed sense of purpose. For more information or to get involved please go to
www.AfterTheImpact.org
Source: After The Impact
---
0 Comments