EntSun News/10776617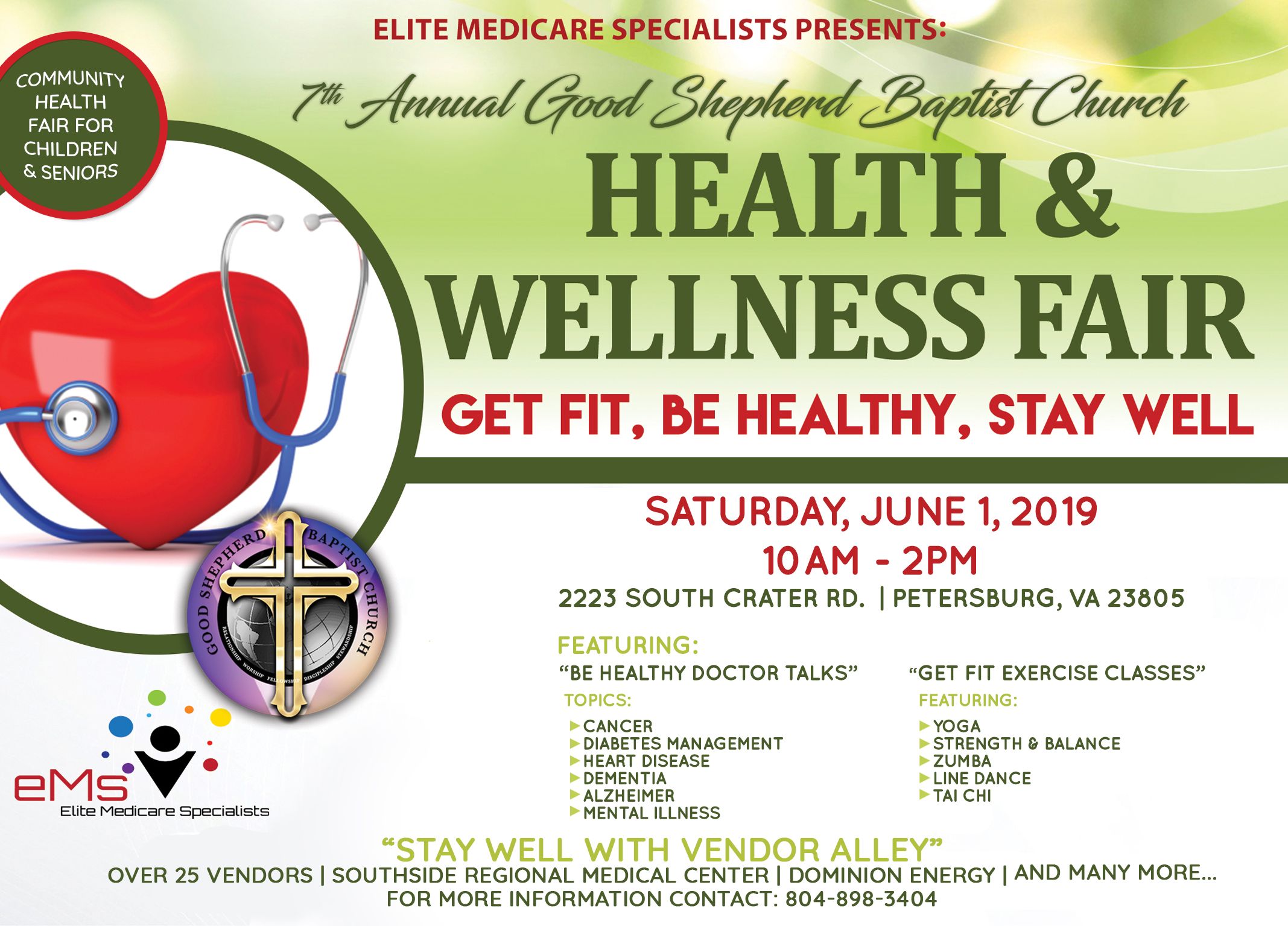 Good Shepherd Baptist Church Welcomes You to Come Out and Share!
PETERSBURG, Va.
-
May 14, 2019
-
EntSun
-- Good Shepherd Baptist Church will host their 7
th
Annual Health & Wellness Fair to bring awareness, resources and health screenings to the Central Virginia Community. This year Good Shepherd Baptist is joining forces with Elite Medicare Specialists, as the event title sponsor and organizer, to bring a carnival style fair to Petersburg and surrounding areas. The Fair will offer fitness classes, educational seminars, demonstrations and a variety of community partners to answer on-the-spot questions.
"This year we wanted to bring an engaging vibe to the GSBC Health Fair. To accomplish this vision, we reached out to our community partners in hopes of arranging onsite resources for fair participants. We accomplished this task by adding fitness classes and doctor talks to Good Shepherd's traditional line up of health vendors. We will host "GET FIT" fitness to include yoga, zumba, and line dance to name a few of these classes," says Tia Vango - President at Elite Medicare Specialists, LLC. The Fair will also facilitate " BE HEALTHY" doctor talks, in the GSBC Theater, on health challenges that affect the community, including heart disease and diabetes. In "STAY WELL" vendor alley there will be over 35 vendors including the American Heart Association, United Health Care and the YMCA of Greater Richmond. Each vendor provides a service that directly impacts our wellness.
More on EntSun News
Those interested in attending one of the many classes offered may pre-register by calling the office of Elite Medicare Specialists or visiting the event web page. Participants who register will receive an event t-shirt and tote bag. The Good Shepherd Baptist Church 7
th
Annual Health & Wellness Fair will be held on June 1, 2019 from 10 a.m. – 2 p.m. The location is 2223 S. Crater Road, Petersburg VA.
###
Elite Medicare Specialists offer a full suite of insurance protection products for seniors and those with Medicare benefits. Dental, vision, final expense and hospital coverage are also available in addition to their array of Medicare products. Elite Medicare Specialists is licensed by the Virginia Bureau of Insurance, license number 143839 in Glen Allen, Virginia. They are located at 2557 South Crater Road, unit G, Petersburg Virginia. The office number is 804-898-3404 and they are open from 10 A.M- 4 P.M.
More on EntSun NewsFor more information on the GSBC Health and Wellness Fair:
https://www.elitemedicarespecialists.com/gsbc-event-page
Source: Good Shepherd Baptist Church
---
0 Comments