EntSun News/10703644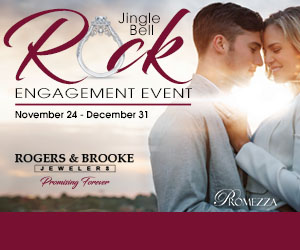 Holiday Savings Event Features Top Engagement Ring Brands Promezza & Brilliant Fire
EVANSVILLE, Ind.
-
Nov. 21, 2017
-
EntSun
-- Beginning on Friday, November 24
th
, area couples in love can save significant amounts of money by attending Jingle Bell Rock, a savings event being held at all Rogers & Brookes locations. "This is an ideal event for anyone who's planning a holiday proposal and wants a magical wedding," said Tammy Miller, CFO. "We've got a trio of great offers that can really help couples make the most of their budget."
Up to $500 Savings Credit Available
"There are a lot of expenses associated with a wedding," Tammy Miller said. "The cake, the flowers, the honeymoon…it all adds up. To help couples out, we're giving everyone who purchases an engagement ring during Jingle Bell Rock a savings credit they can use for their wedding expenses. If you spend up to $1,000, you get $100 – and the more you spend, the more you save, up to $500!
More on EntSun News
Rogers & Brooke Jewelers carry many top designer engagement ring brands, including local favorites Benchmark, Fairytale Diamonds, EPIC 101, Promezza, The Royal Colorless Diamond Collection, Love Cuts, Twogether, and the Promise Collection. "We're also debuting Brilliant Fire & Fire Polish Diamonds during Jingle Bell Rock," Miller said. "The exceptional artistry involved in cutting these diamonds will appeal to anyone who loves dramatic beauty."
Top Engagement Ring Brands Promezza, The Royal Colorless Collection & Brilliant Fire 30% Off
"Brilliant Fire is an exciting new brand we're thrilled to bring to the area," Tammy Miller said. "These engagement rings feature exceptionally well-cut diamonds which are breathtakingly beautiful. Along with the very romantic Promezza engagement rings, Brilliant Fire & The Royal Colorless Collection will be 30% off during Jingle Bell Rock."
Wedding Party Gifts – 20% Off!
During the Jingle Bell Rock Event we will have 20% Off Adorne & Luvente brands – two great lines sure to please your wedding party. Maid of Honor and bridesmaid gifts sure to delight!
More on EntSun NewsFive Fantastic Financing Offers
"Love shouldn't have to wait," Tammy Miller said. "That's why we challenged our financing partners to create great offers for our Jingle Bell Rock shoppers. These are some of the best deals we've seen and can play a huge role in helping couples get the wedding jewelry they really want."
Jingle Bell Rock: Rogers & Brooke Jewelers 11/24 -12/31
"Holiday season proposals are always a little magical," Tammy Miller said. "We've got showcases full of engagement rings that deliver that fairy tale romance feel. Come check them out! You'll be glad you did."
Check out all of the event details here:
https://rogersjewelers.com/events/jingle-bell-rock/
Tammy Miller is available for interviews.
Source: Rogers & Brooke Jewelers
---
0 Comments