EntSun News/10697593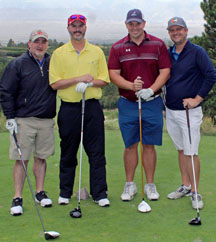 13th annual Energy Outreach Colorado event supports warm and safe homes for vulnerable Coloradans
DENVER
-
Oct. 16, 2017
-
EntSun
-- Supporters of affordable home energy in Colorado raised $131,500 at
Energy Outreach Colorado's
13th annual golf benefit at Sanctuary Golf Course.
The Sept. 14 event was sponsored by
SM Energy
and presented by
RE/MAX International
. Other supporters included Meritage Midstream, Group 14 Engineering, Bayswater Exploration, Intermountain Rural Electric Association, A & K, Xcel Energy, Tri-State Generation, Black Hills Energy, Wells Fargo, Crestone Peak Resources, McBride Lighting, Advanced Hydronics, Broomhall Brothers, Poudre Valley REA, Elevation Lighting, Assured Partners and Innovest.
"SM Energy is proud to be an ongoing supporter of affordable home energy in Colorado," said Jason Sands, accounting manager at SM Energy. "We are thrilled to support vulnerable members of our community with their energy needs and look forward to continuing our support of Energy Outreach in the future."
More on EntSun NewsAbout Energy Outreach Colorado
Energy Outreach Colorado raises funds to help low-income Coloradans afford home energy and remain warm and safe in their homes. Established in 1989, Energy Outreach works with partner assistance organizations, vendors and subcontractors across the state to provide energy bill payment assistance, emergency home furnace repair, weatherization services, energy efficiency grants for affordable housing and nonprofit facilities, energy education, and advocacy on behalf of low-income energy consumers.
http://www.energyoutreach.org
http://www.energyoutreach.org/blog
https://www.facebook.com/energyoutreach
https://www.twitter.com/energyoutreach
https://youtube.com/EnergyOutreachCO89
Source: Energy Outreach Colorado
---
0 Comments